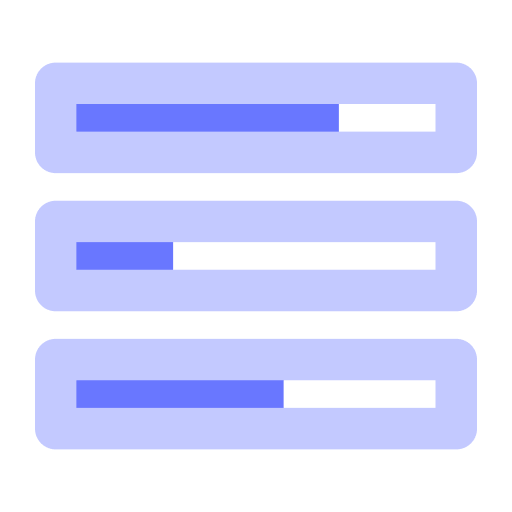 Build interactive Airtable dashboards, portals, and forms to update or create Airtable data instantly.
Share with anyone (even if they don't use Airtable)
On2Air Forms is permanently closed to new sign ups as we focus on our On2Air Backups app.
We've partnered with Fillout, a form software that integrates directly with Airtable, to use as your primary Airtable form source.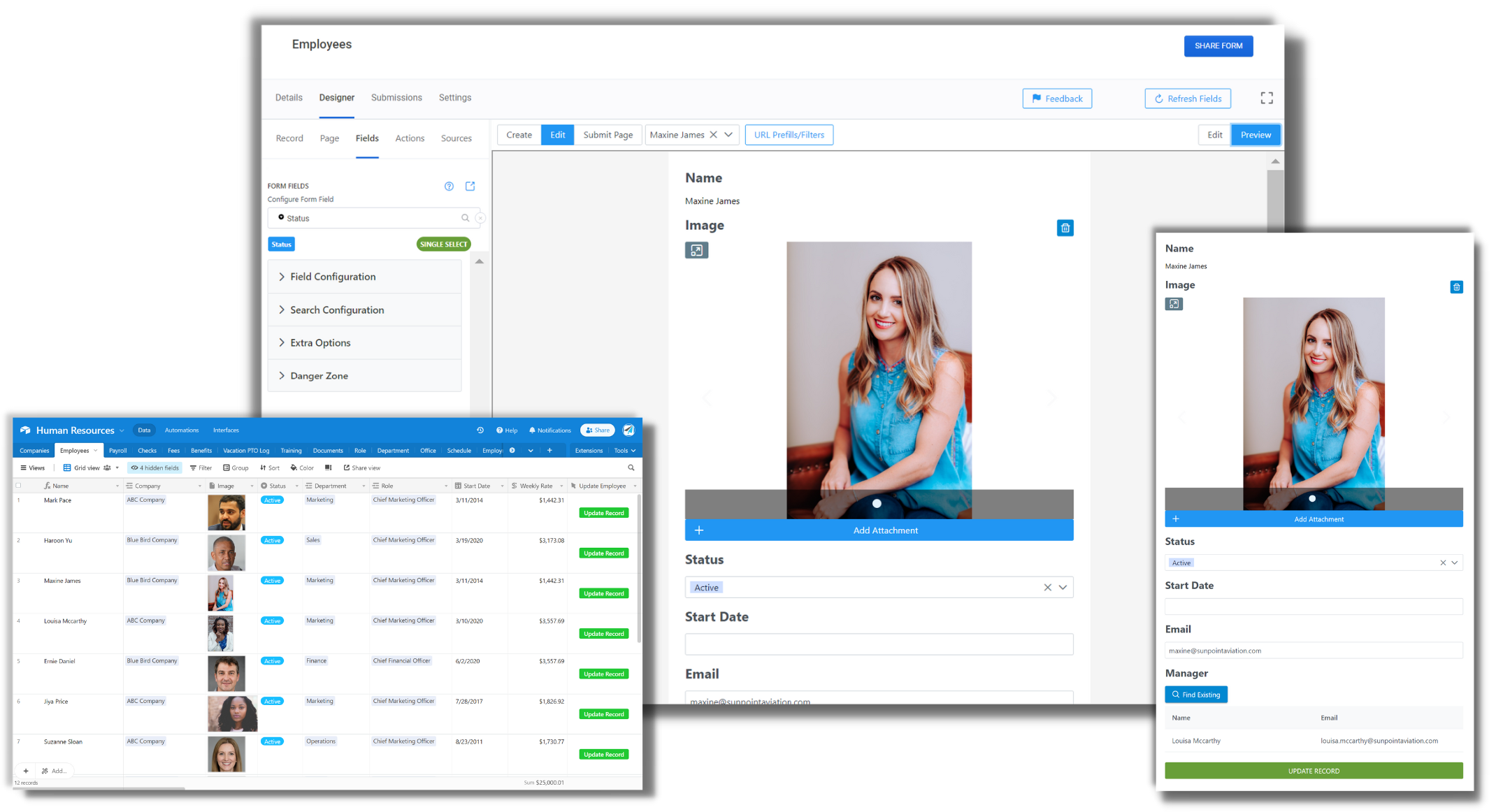 Connects Directly to Airtable

On2Air trusted by these companies
Franklin Templeton Investments
Congregation Shamrei Emunah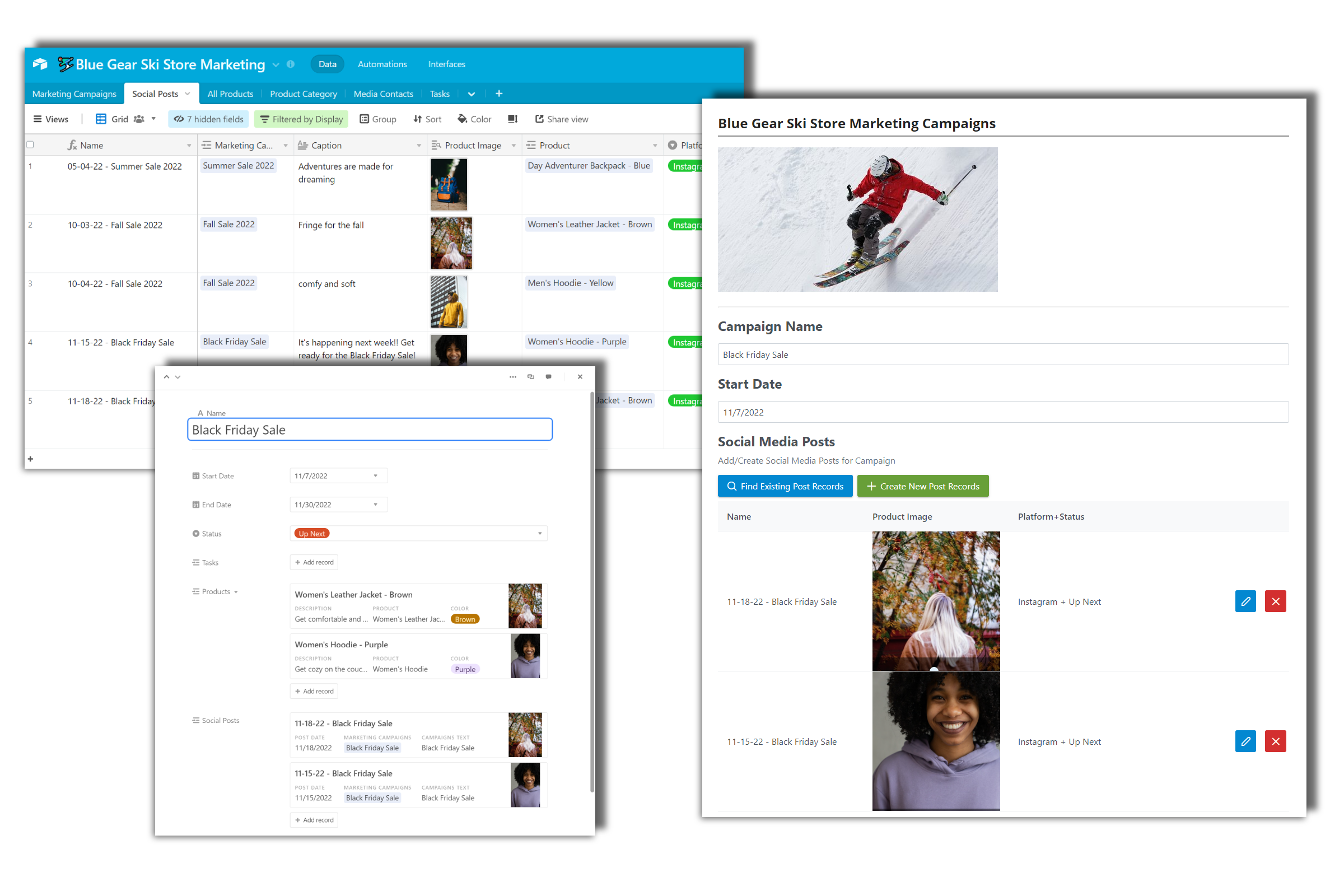 Integrates Directly with Your Airtable Data
Build powerful, advanced forms for updating, creating, and using your Airtable data any way you need. More than just a form – interact with your clients, team, and users in a whole new way.
Connects directly to Airtable
Create or update existing Airtable records
Instant updates to your base
Create and Edit Linked Records
Quickly create new linked records or edit existing linked records that are automatically updated in Airtable.
Edit and update linked records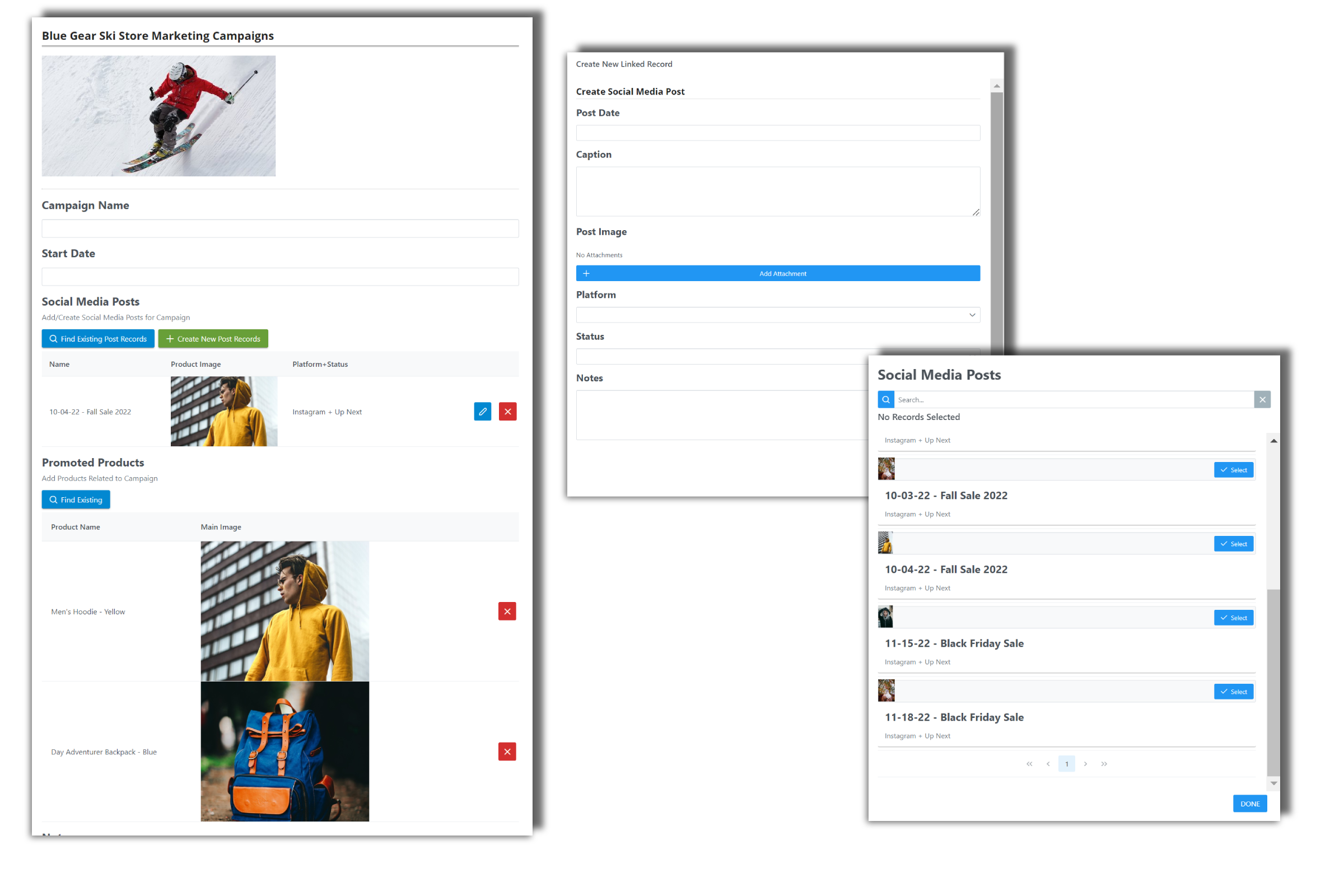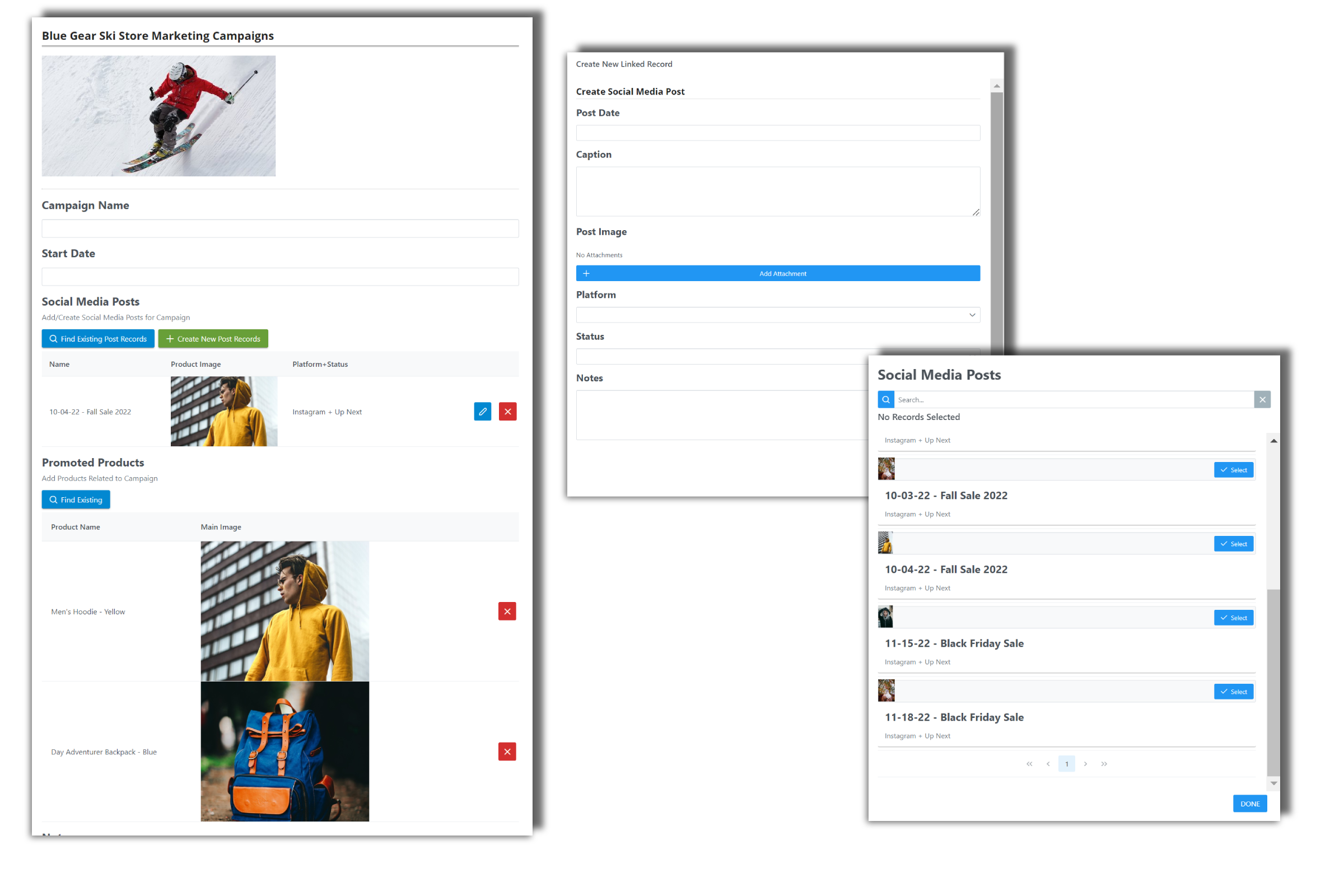 Update or Create Records in Multiple Airtable Tables from 1 Form
Update records across your entire base with Subforms! Add any linked record field to your form to update or create new records in a specific table. You can even add multiple Subforms in your main form!
Update multiple tables from 1 form
Add SubForms inside any form
Create Dashboards and Portals for Your Team and Customers
Create a dashboard with custom information per user. Choose what the form user can view, update, or create. Quickly generate unique portal URLs for every record in your table.
(Login features on product roadmap)
Easily created for every record in your base with a single button
Share custom dashboards with information per user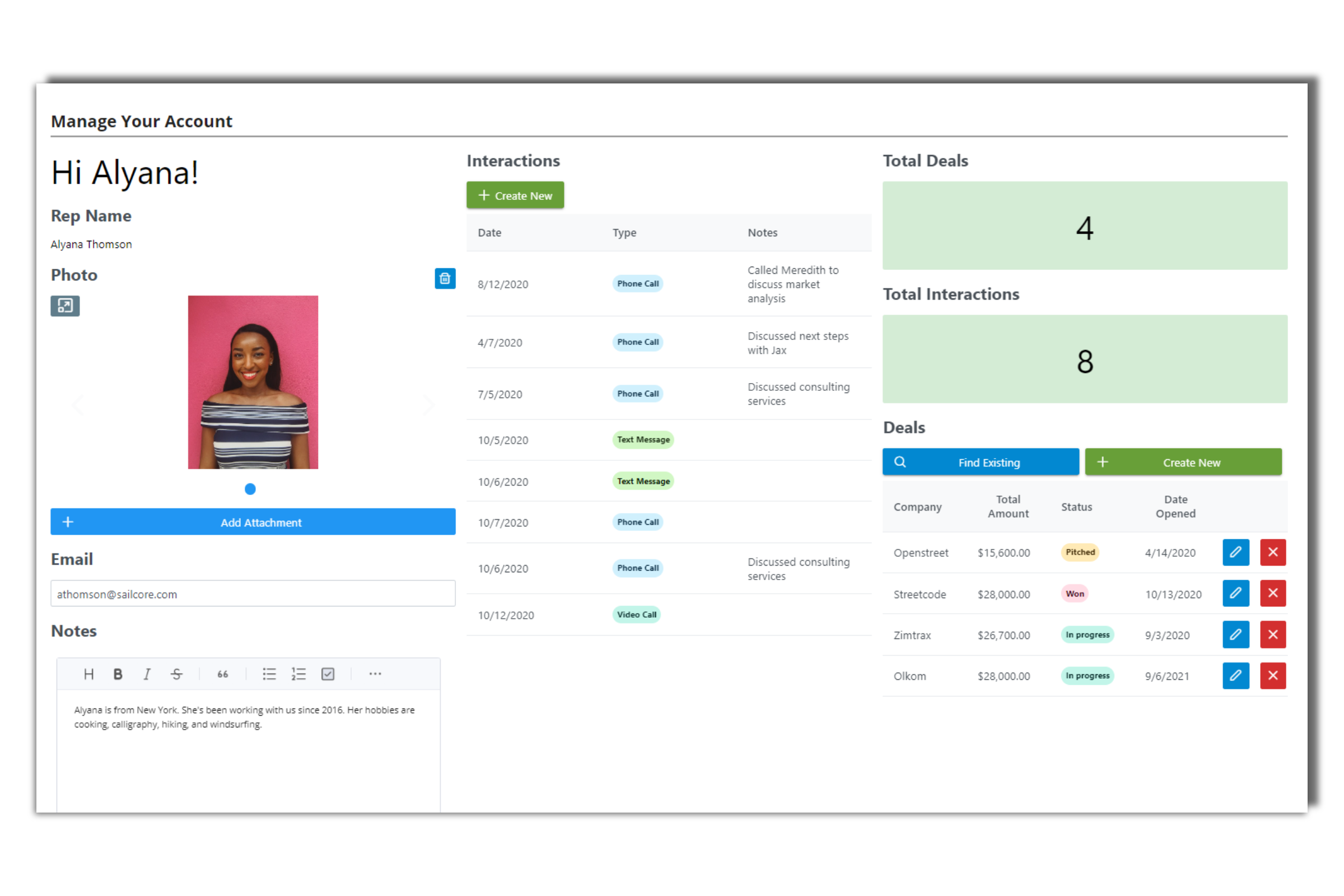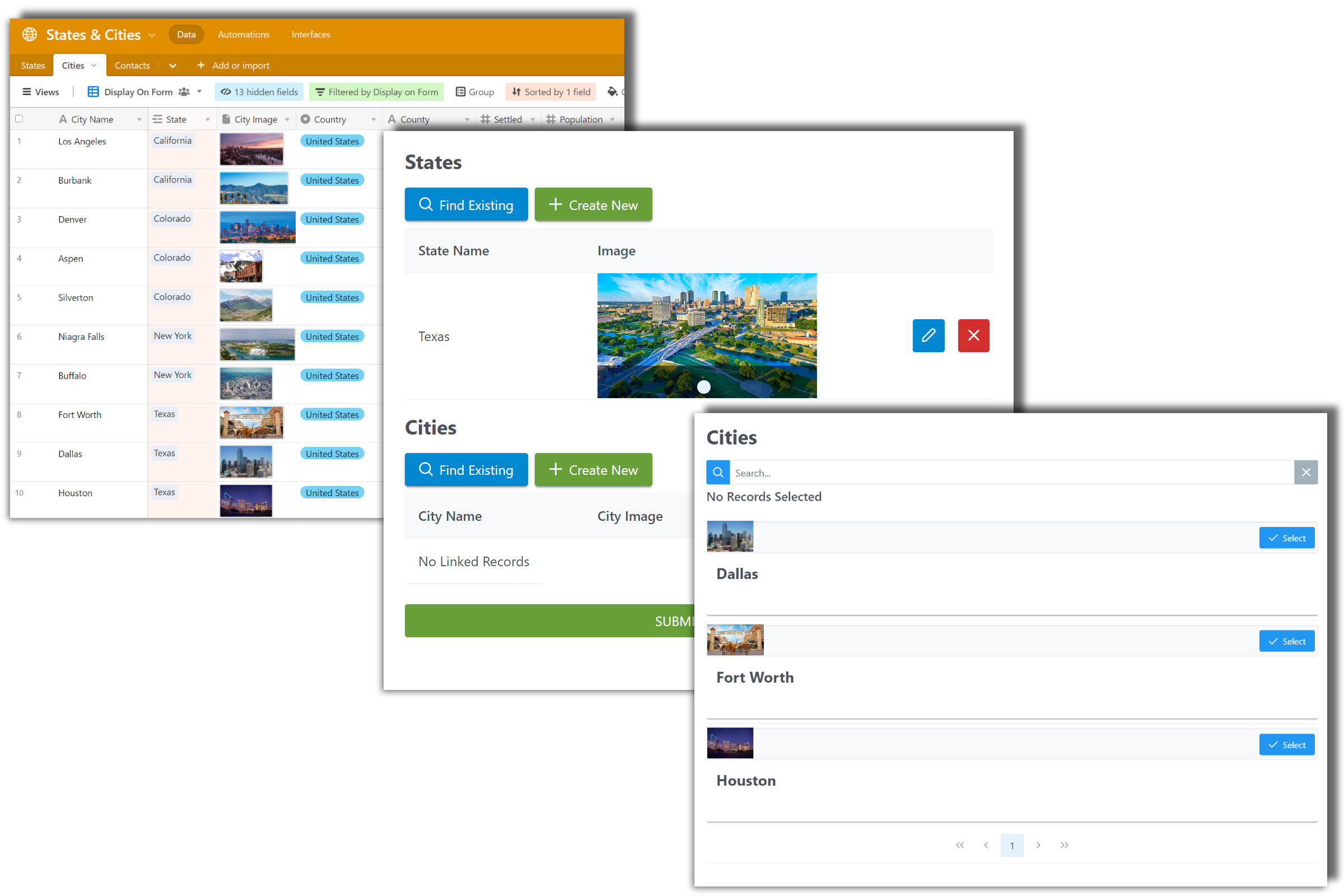 Powerful Filters to Display Specific Data
Allow users to search your Airtable data based on your custom filters. Display specific records based on a previous selection.
Example: Choose a State, then only display Cities in that State
Example: Allow Sales Reps to only see information about their own Clients
Use basic or advanced filters
Limit what records can be viewed or chosen
Create Powerful Conditional Logic and In-App Automation
Show or Hide Fields based on another field's selection or value. Add Default Field Values or Custom Values based on other fields. 
Create conditional logic for any Airtable or On2Air field
Create conditional logic for any Airtable or On2Air field
Choose what your form user can view or complete
Make your form seamless and easy to use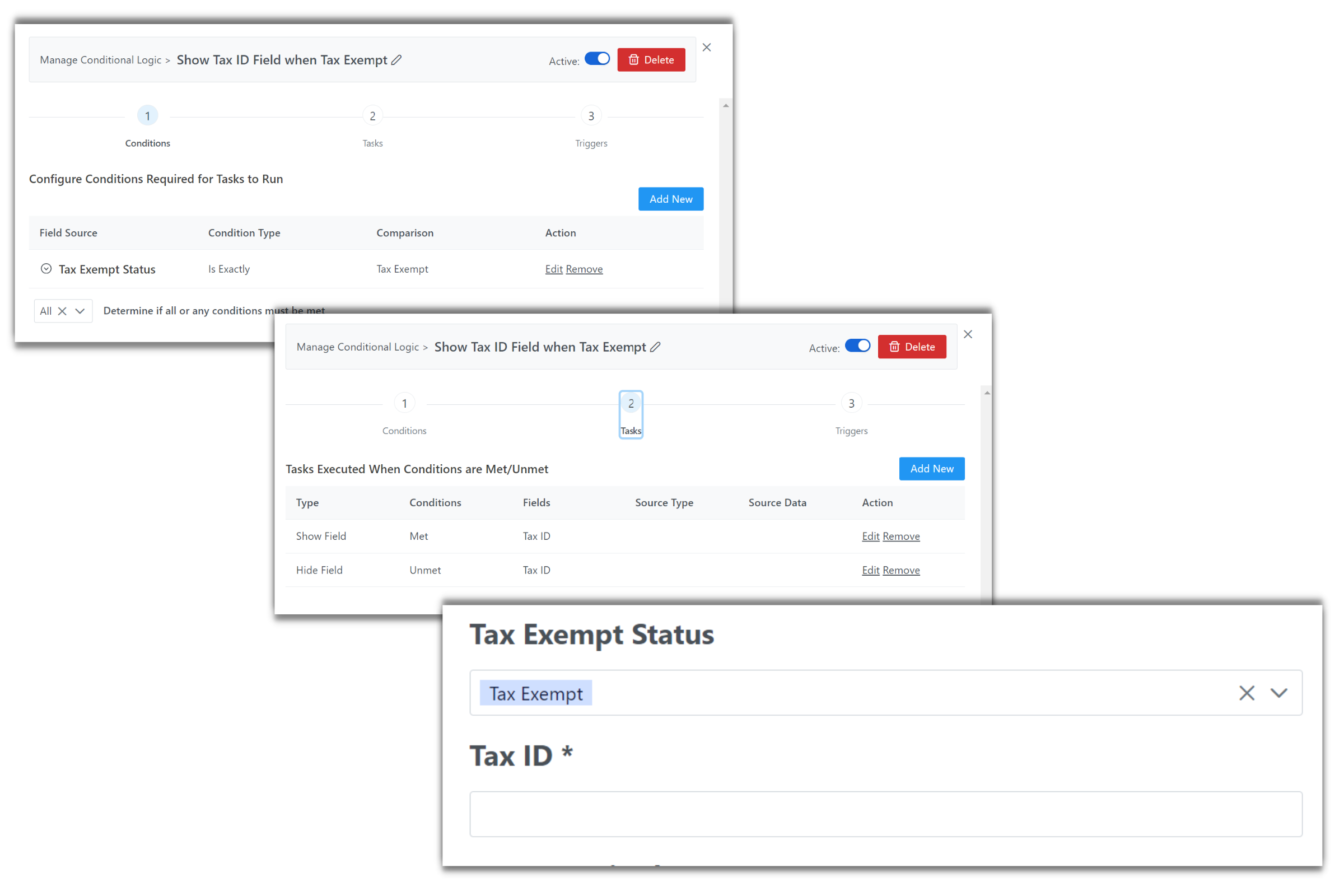 Pre-Populate and Prefill Any Form Field with Data for the User
Send forms with the fields already completed for your user. Add values from your Airtable base or use static values with URL Prefills. You can prefill basic fields or linked records.
Send forms with data already in the fields
Easy-to-use URL Prefill builder (we create the URL for you!)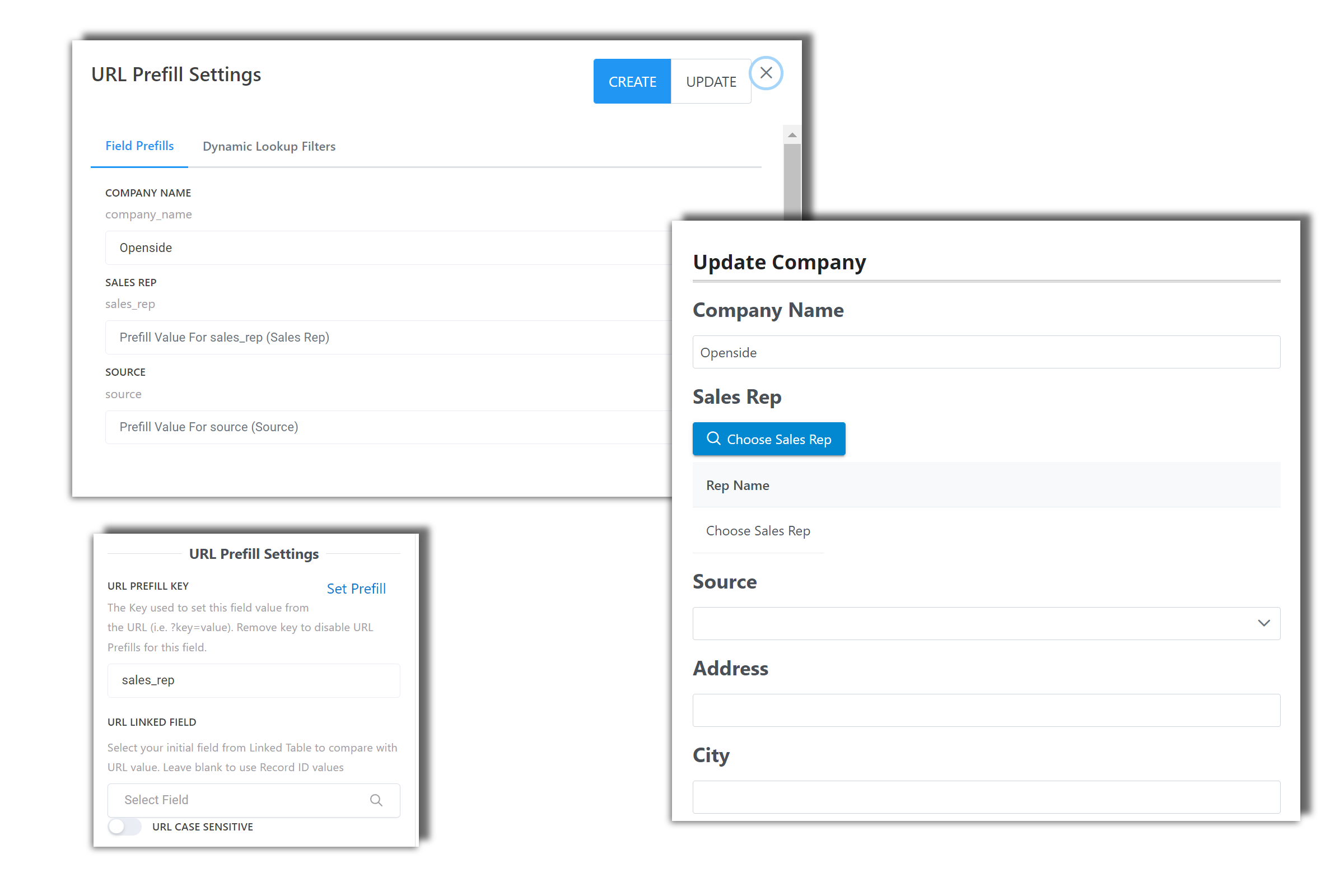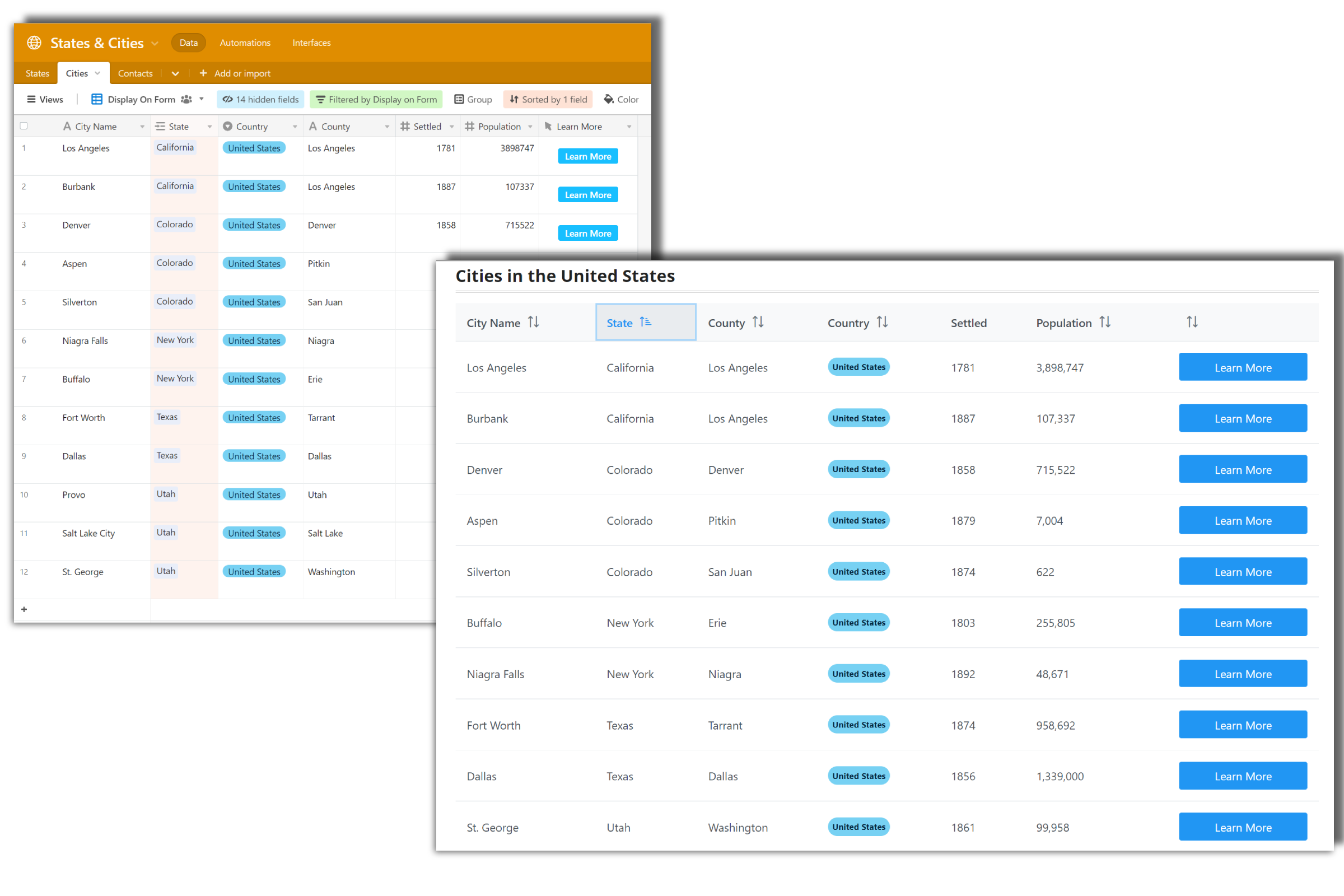 Display a List of Records Specific to Your Needs
Display a custom list of records depending on each use-case. Use our URL Prefill option to customize the records displayed per your form user.
Display a list or table of records
Showcase data from your base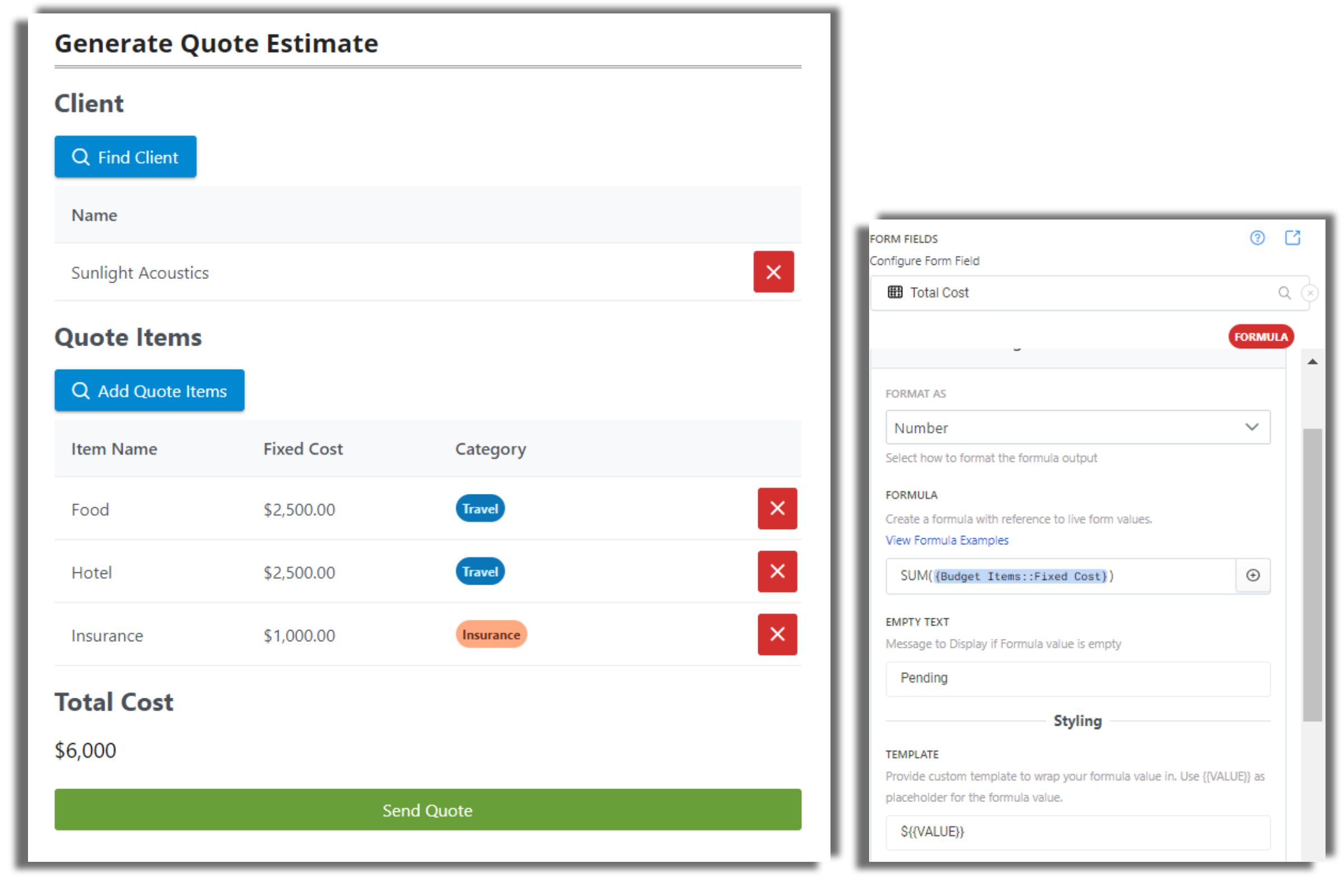 Live Calculate Values For Estimates, Quotes, Orders, and More
Automatically calculate values entered into your form. Use values entered by the user or from any table or field connected to your form. Create estimates, orders, scores, surveys, calculators, and more.
Useful for quotes, estimates, orders, and more
Live calculate values based on what the form user enters
Desktop, Laptop, Mobile, or Tablet Ready
Whether you're sitting at your desk or you're out in the field, your form can be used wherever you go.
Viewable on any device from phones, to laptops, to large screens
Use on a phone or tablet while in the field to quickly create or update Airtable data
Display data on large monitors or TVs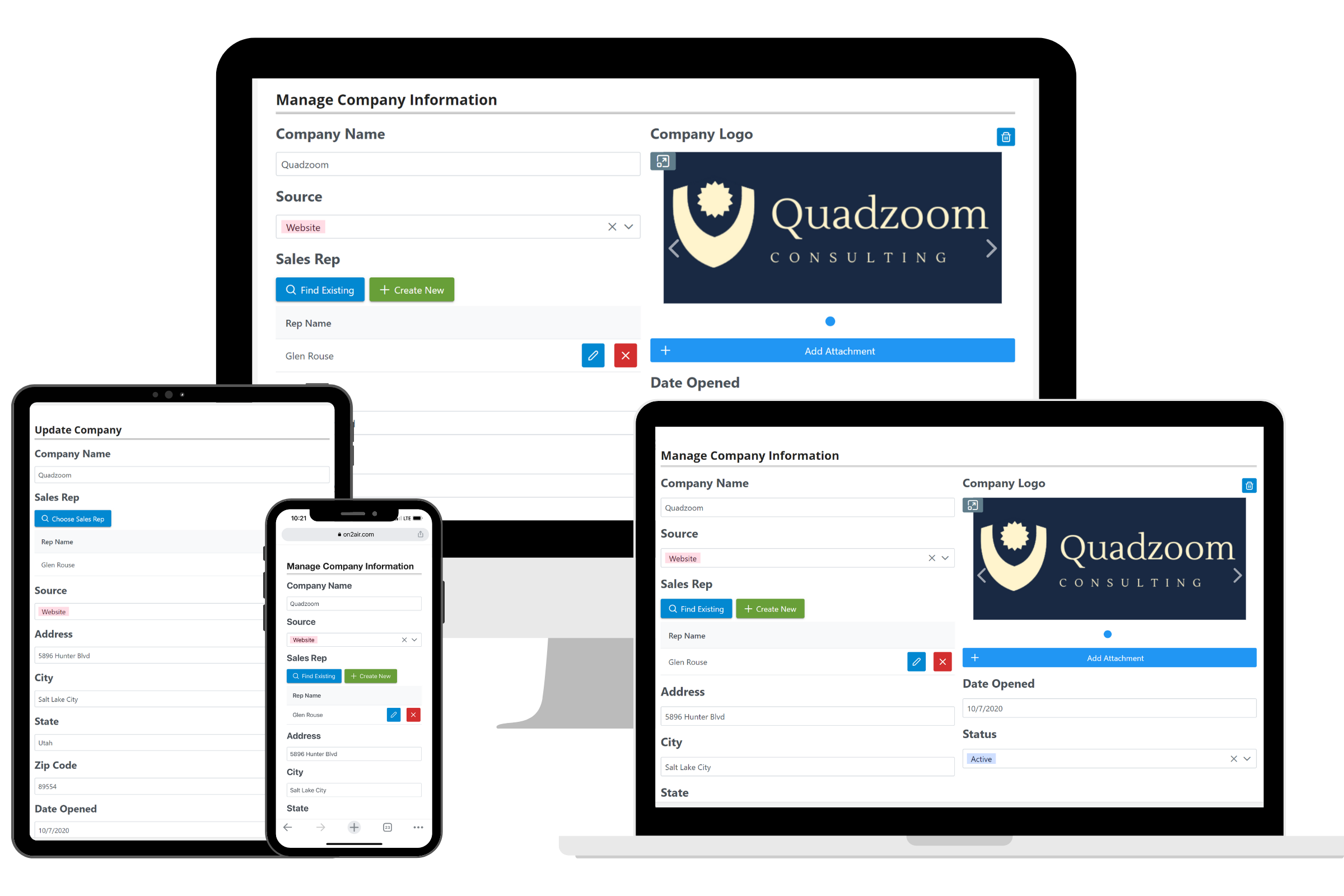 Take your Airtable data to new heights.
Start a 14-day free trial. No credit card needed.
How Grow with Jen Consulting Streamlined Projects for a High-Volume Construction Company with On2Air Forms and Airtable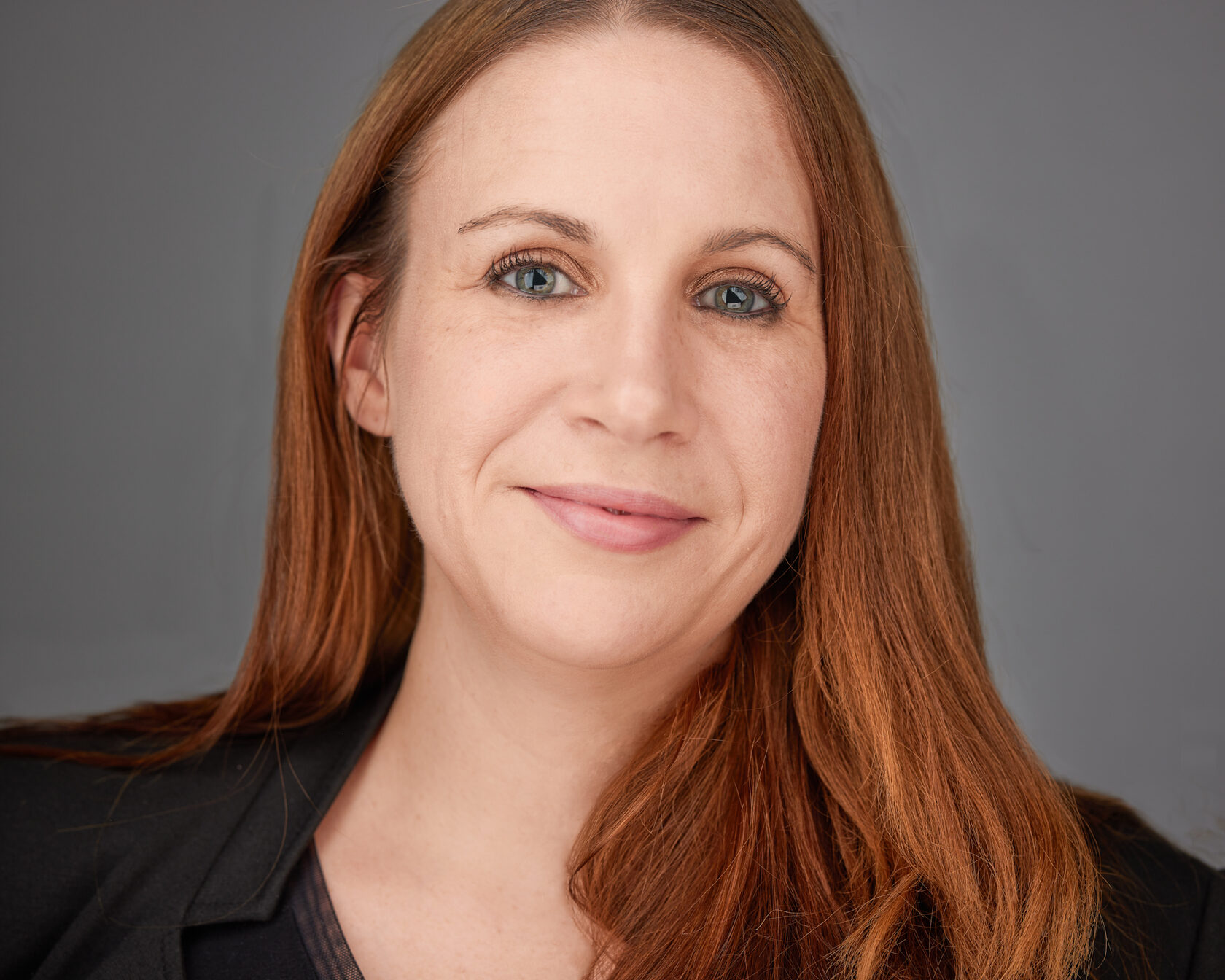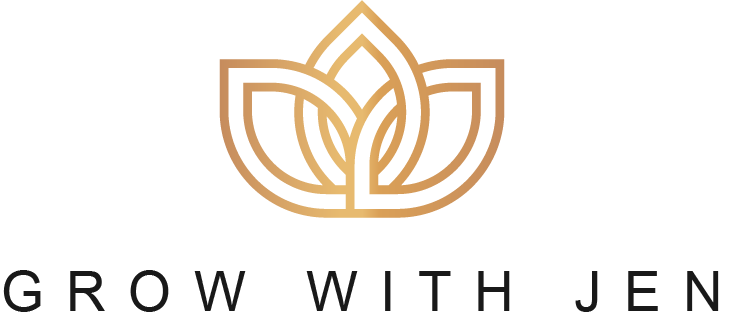 On2Air Forms allows us to pull the information from Airtable, update the information, and send it back to Airtable.

I love On2Air Forms! Creating linked records is so smooth.
These forms are awesome and exactly what we need. 
Update and Create Airtable Records Quickly
Directly update or create Airtable records without giving access to the entire Airtable base.
Direct Integration with Airtable
Updates sent to Airtable instantly. Use single or multiple tables and fields from your Airtable bases.
Use Simple or Advanced Filters to Limit Records Displayed
Create basic or advanced filters to limit the records displayed to the user. Display filtered records based on what a user chooses.
Update Multiple Tables from a Single Form
Add multiple Linked Tables to a single form to create or update new records with ease.
Create or Edit Linked Records
Add Forms inside your Forms to update or create records from one place. Simplify the process for your form user.
Prefill Your Forms with Any Value
Prefill fields with our easy-to-use prefill editor. Use your Airtable data or any value to prefill any field type. Prefill URLs are automatically generated to share the form.
Automatically hide or show form fields based on previous answers.
Live Calculate Values on Your Form
Create simple or complex calculations using both your Airtable data and/or form values entered by the form user.
Personalize Your Form with Their Data
Use Airtable record data to prefill your form fields, so a form user doesn't need to choose. 
Add Default Values to Any Field
Enter a default value on any field or use a record in your base that contains default values.
Allow Non-Airtable Users to Edit or Create Records
Allow non-users to create or update your Airtable records.
Desktop, Mobile, Tablet Responsive
Forms can be used on any device so you can use it at the office or on the road.
Premium Customer Service and Support
Real people ready to help you. We're Airtable experts and we're here to help. We've been building Airtable apps and Airtable business systems for years.