Airtable Extensions: A User Guide
You've been using Airtable for a little while and you realize just how valuable it's been for taming your unorganized piles of information.
But now, you need to use or view your data in different ways. Maybe you need to view charts of your data, batch update records, or backup your data to Google Drive.
You can do all of this with Airtable Extensions.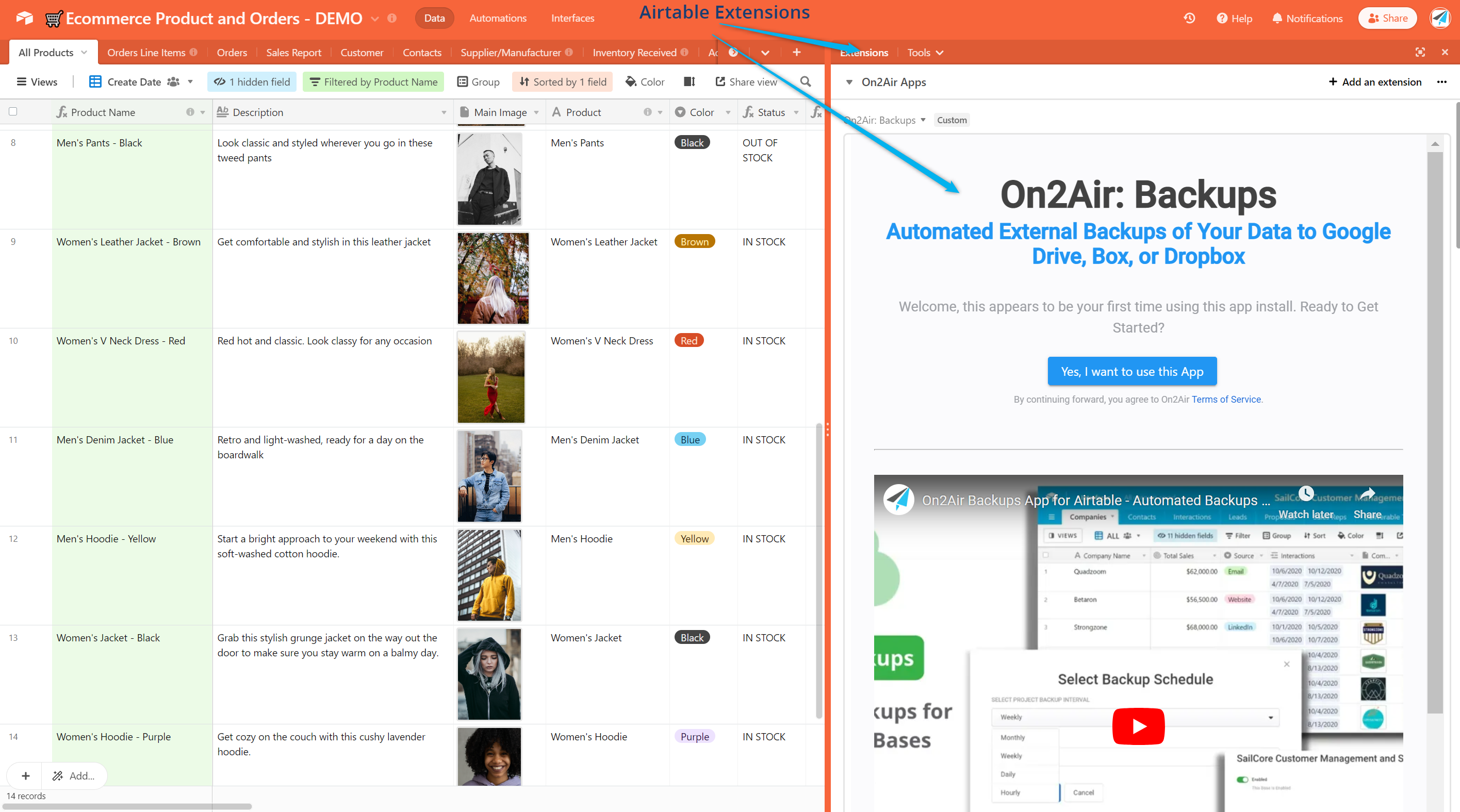 Airtable Extensions extend the functionality of your Airtable bases. They introduce new ways of building and using your data. 
(Extensions were previously labeled as Apps, but the name was changed. Also, not to be confused with the Airtable Connected Apps Platform)
In this tutorial, we'll show you what Airtable extensions are and how you can use them in your business to take your Airtable bases to a new level.
What are Airtable extensions?
An Airtable Extension is an mini-app that lives on top of your Airtable bases. Extensions enhance and add to your current Airtable data. Once you add an extension, it's like adding multiple new features to your Airtable base. Businesses and individuals can use extensions for collecting, organizing, and analyzing data, and much more.
Both Airtable and the Airtable community have developed almost 100 extensions to use with Airtable. There's also an additional 150 open source extensions that users can customize to fit their individual needs.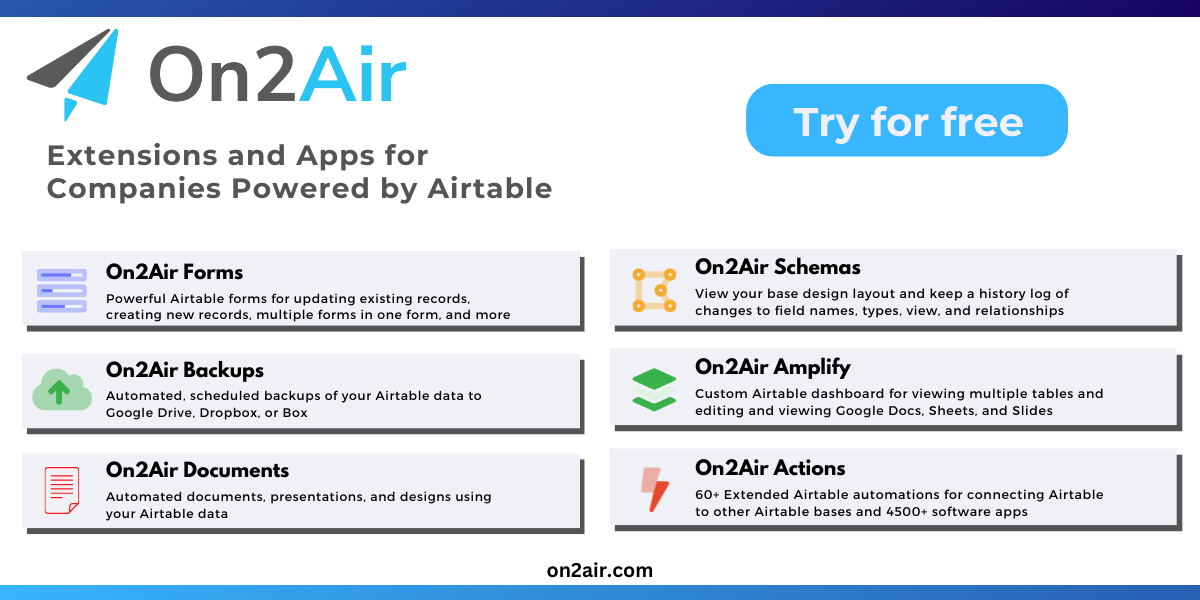 From the extension CSV Import, that imports CSV files into your base, to the Auto Ranker extension, that generates rank numbers automatically for your records, Airtable extensions have the ability to help any business with data organization.
At On2Air, we've been making Airtable Extensions for multiple years. First, for our own clients through our Airtable consulting company.
See all On2Air Extensions for Airtable
Who should use Airtable extensions?
Anyone who uses Airtable can benefit from Extensions. They are for businesses looking for a way to put their data to work for them and individuals who want to take charge of personal data to better organize their life.
A party planning business can use the Scheduler extension to schedule reservations for people, rooms, or equipment and the Master Calendar extension displays an easy-to-read calendar of events and tasks available for its employees.
An ecommerce company can use the Charts extension to view product sales, use On2Air Backups to automatically backup product data, On2Air Forms to accept orders or add a contact form to a website, and SendGrid to email orders.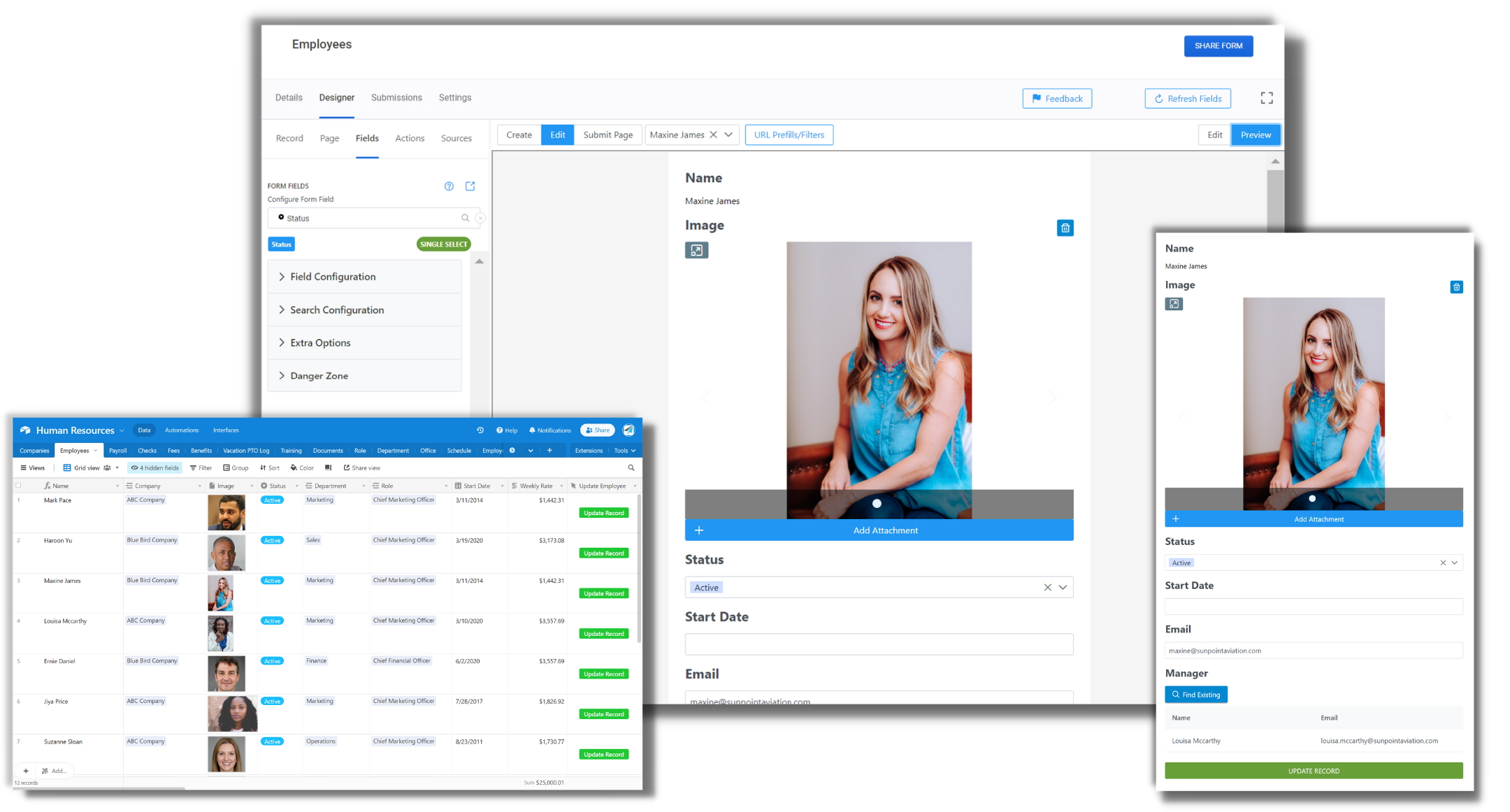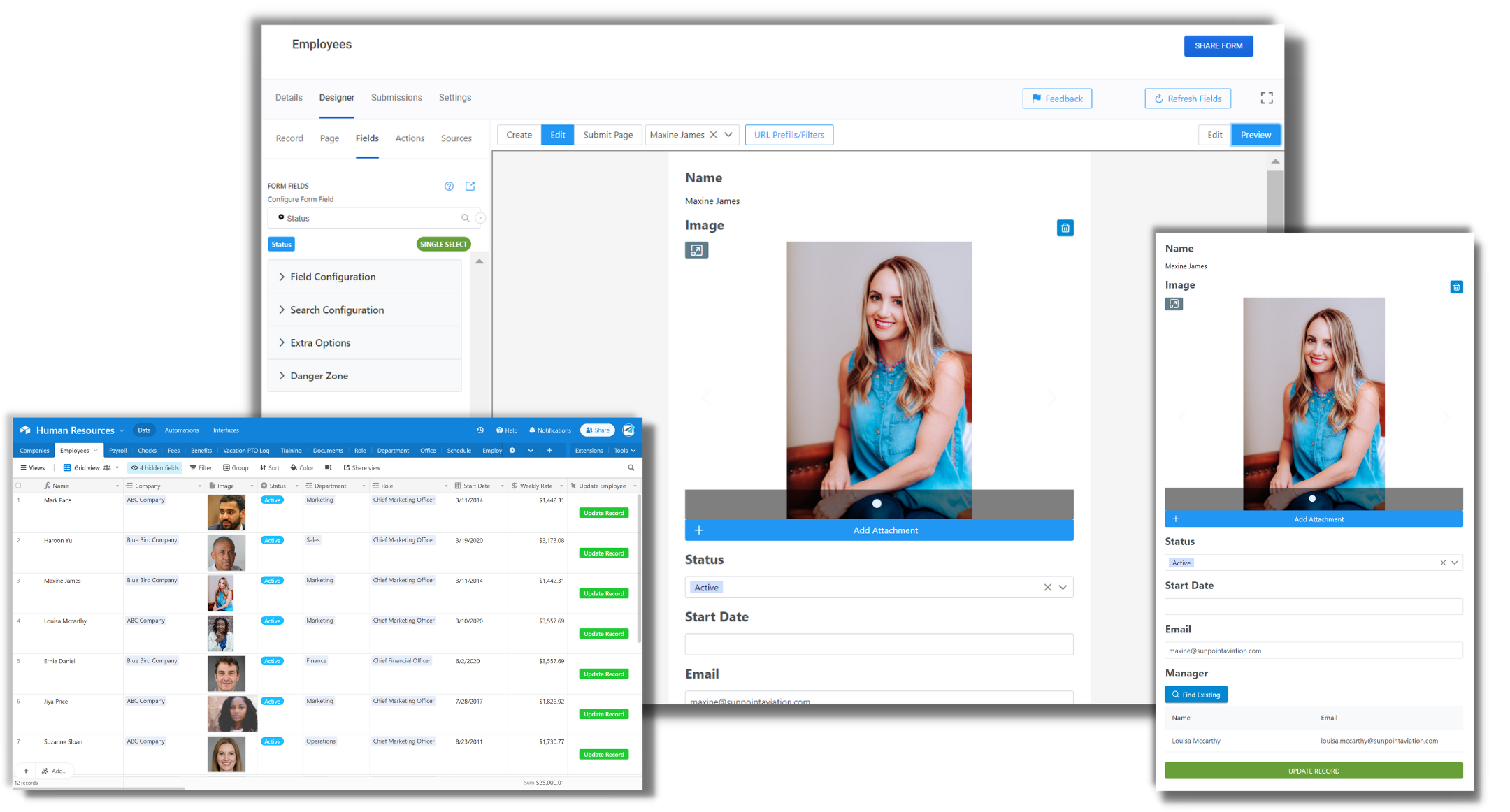 What Airtable extensions are available?
There are extensions for a variety of uses and needs. You can browse through the list of Airtable Extensions below. Click Open Extension to open it in the Airtable Marketplace.
You can also view all extensions in the Airtable Marketplace.
How much do Airtable extensions cost?
There are both paid and free versions of extensions. If you are using them on a smaller scale, several free options may work for you. If you need more powerful features, you'll benefit from upgrading an Extension.  
How do I add an Airtable extension to a base?
1. Open the Airtable base where you want the extension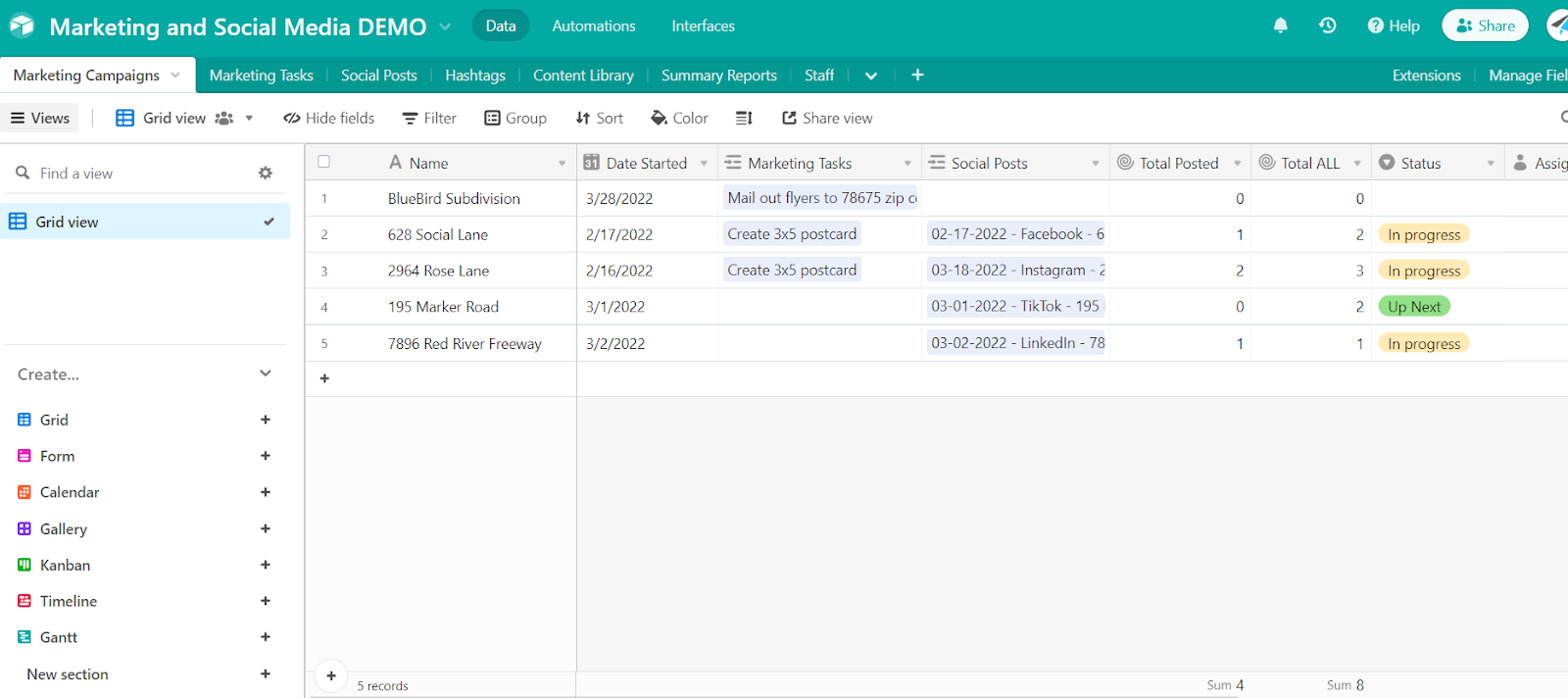 2. Click Extensions in the menu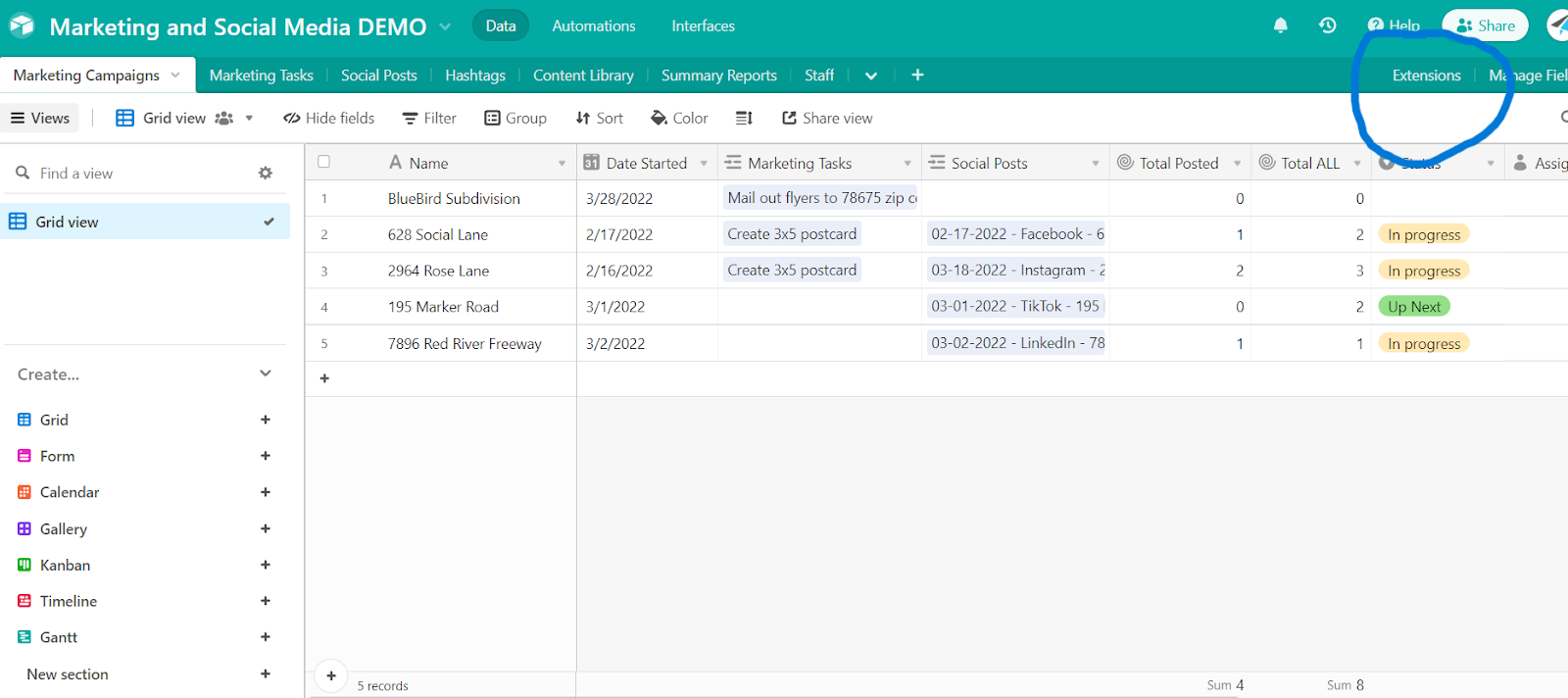 3. Click Add an extension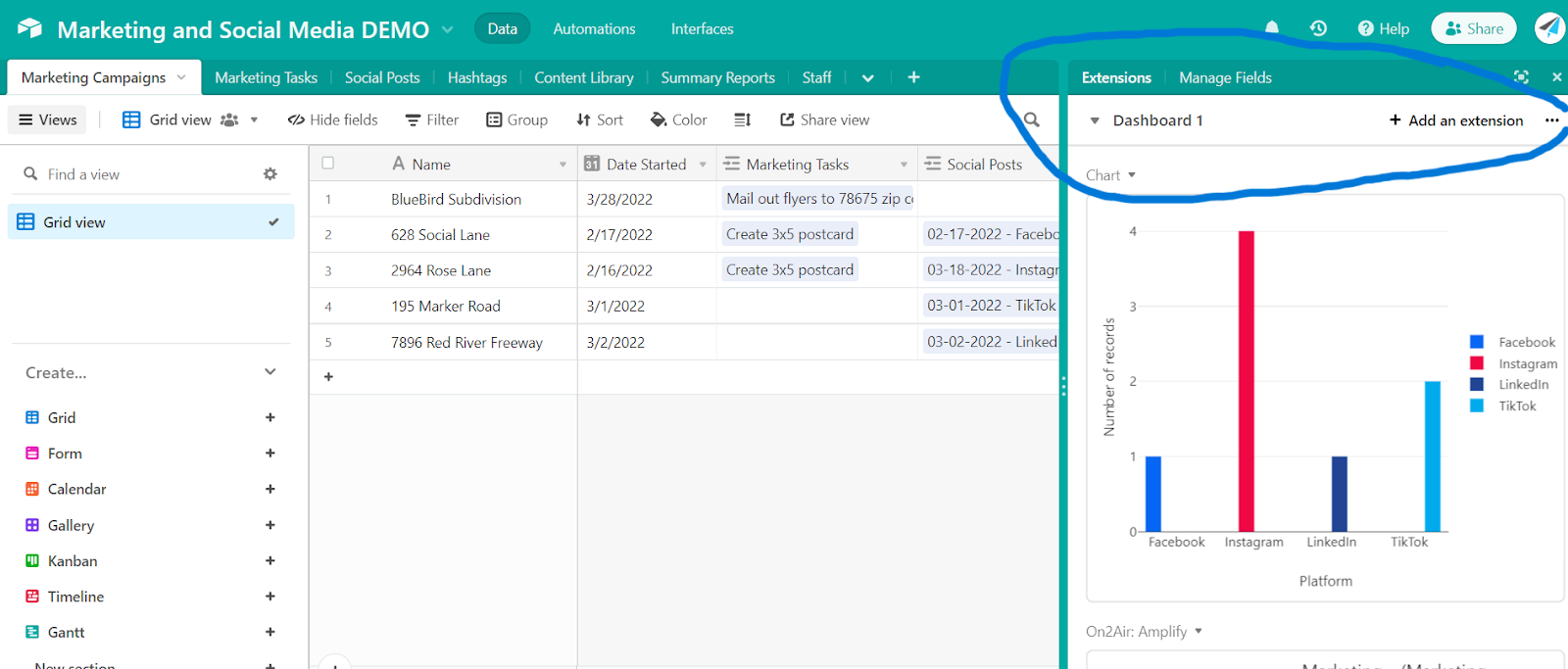 3. Find the Extension you want and click Add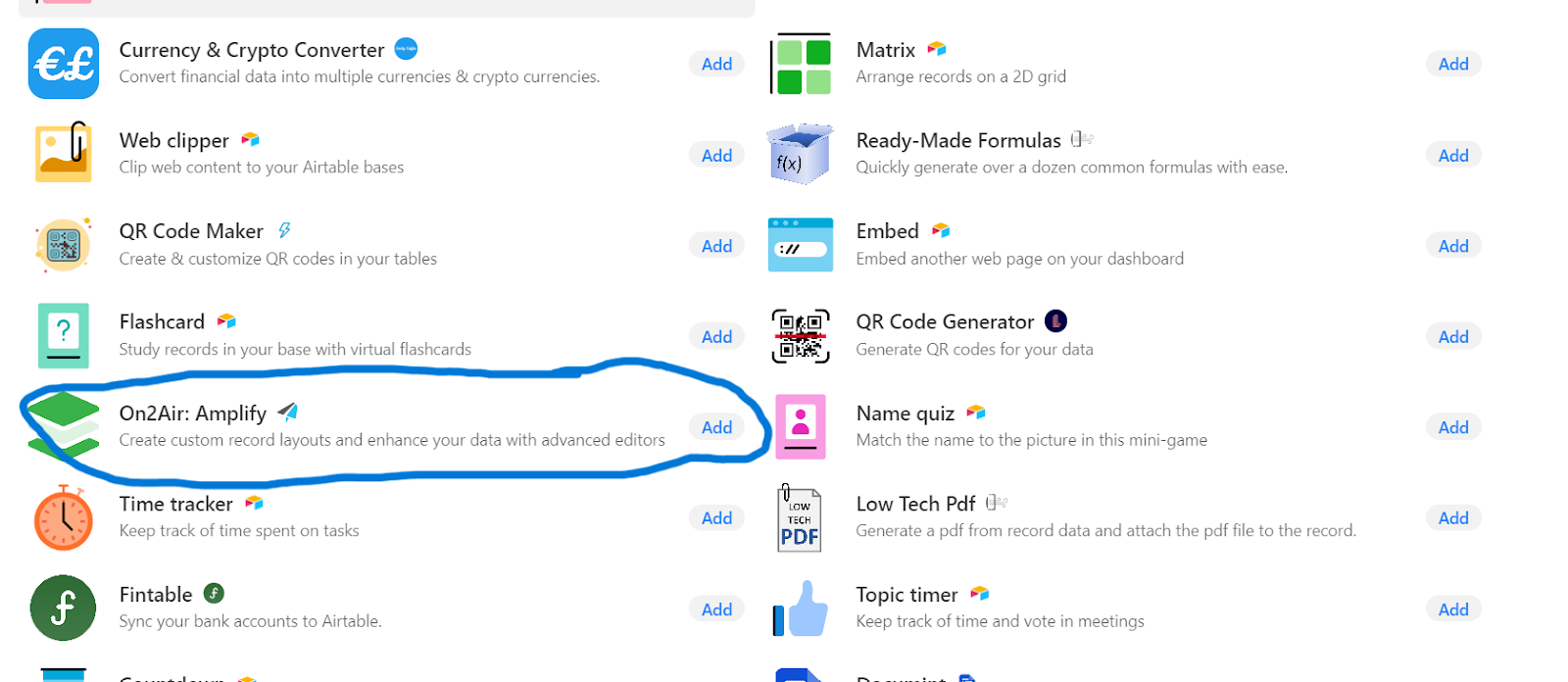 4. On the Extension page, click Add extension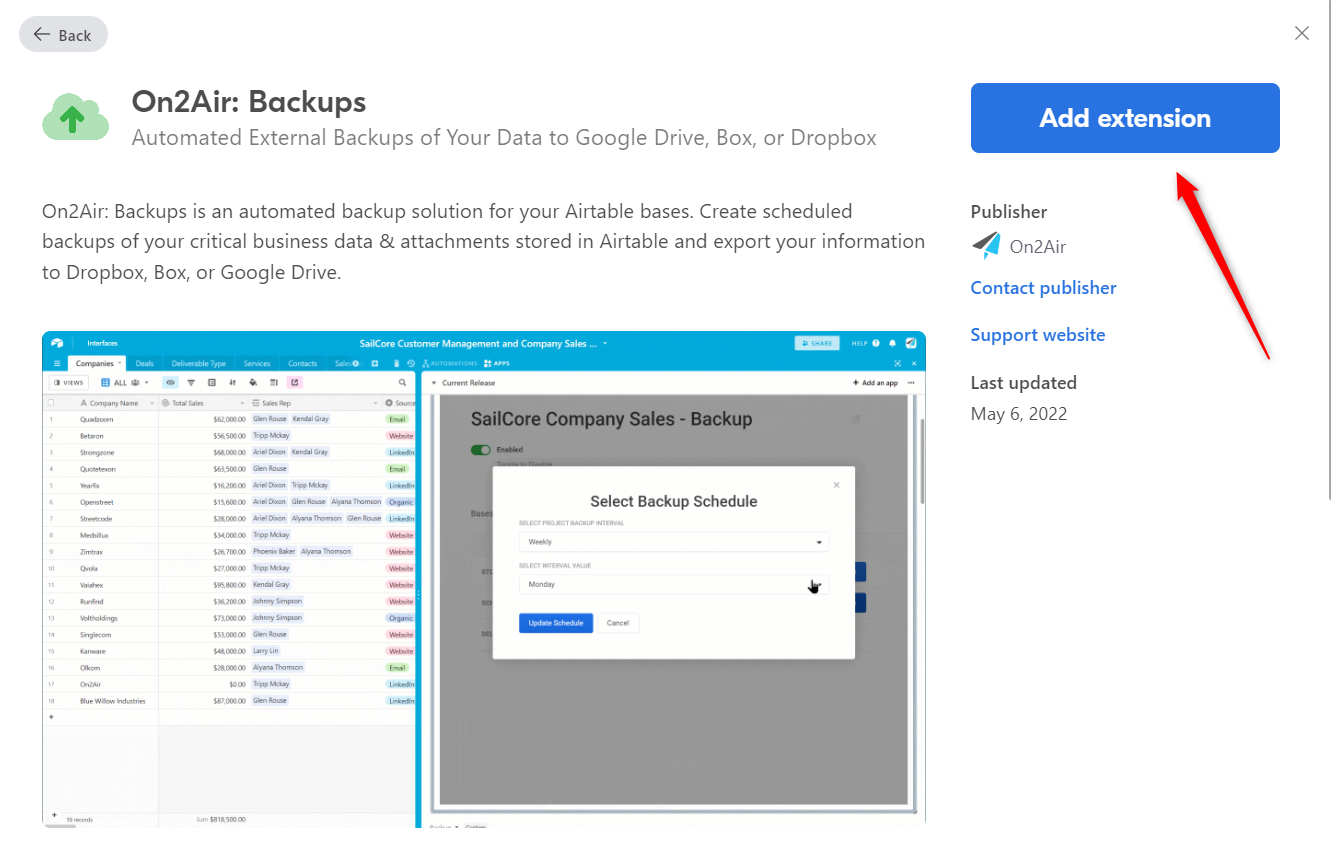 And that's it! 
You can now adjust the settings and start using the Extension.
Try it out now with On2Air Backups – an extension that creates automated, scheduled backups of your Airtable data.
How to Manage and Organize Extensions in an Airtable Base
You can easily manage all Extensions in your base with the Extension manager. Here's how to organize your Extensions.
Extend Airtable with Extensions
Whether you are an individual who wants to organize receipts, clothing choices, or anything else in your life, or you are a business needing to keep track of employee information, back up data, or manage inventory, learn more about the various Airtable extensions.