Accidents happen when working with an Airtable database. One wrong click of your mouse and you've deleted mountains of data. With Airtable, one way to recover data is through an Airtable snapshot.
In this tutorial, you'll learn what Airtable snapshots are, when to use them, and how to use them to recover your data.

💡We created On2Air Backups to automatically back up your Airtable data on a schedule to Google Drive, Dropbox, or Box.

Get a FREE Airtable backup

📽️ All About Airtable snapshots
You've deleted data
You're working away in Airtable and need to delete an old View that's not being used anymore. Not a problem, you think. I'll have this done in just a few seconds.
You move your mouse to the View dropdown arrow, scroll to Delete, then confirm Delete on the next popup. Perfect.
But…hold on a second…where did the Table you were just using go? It's not there anymore!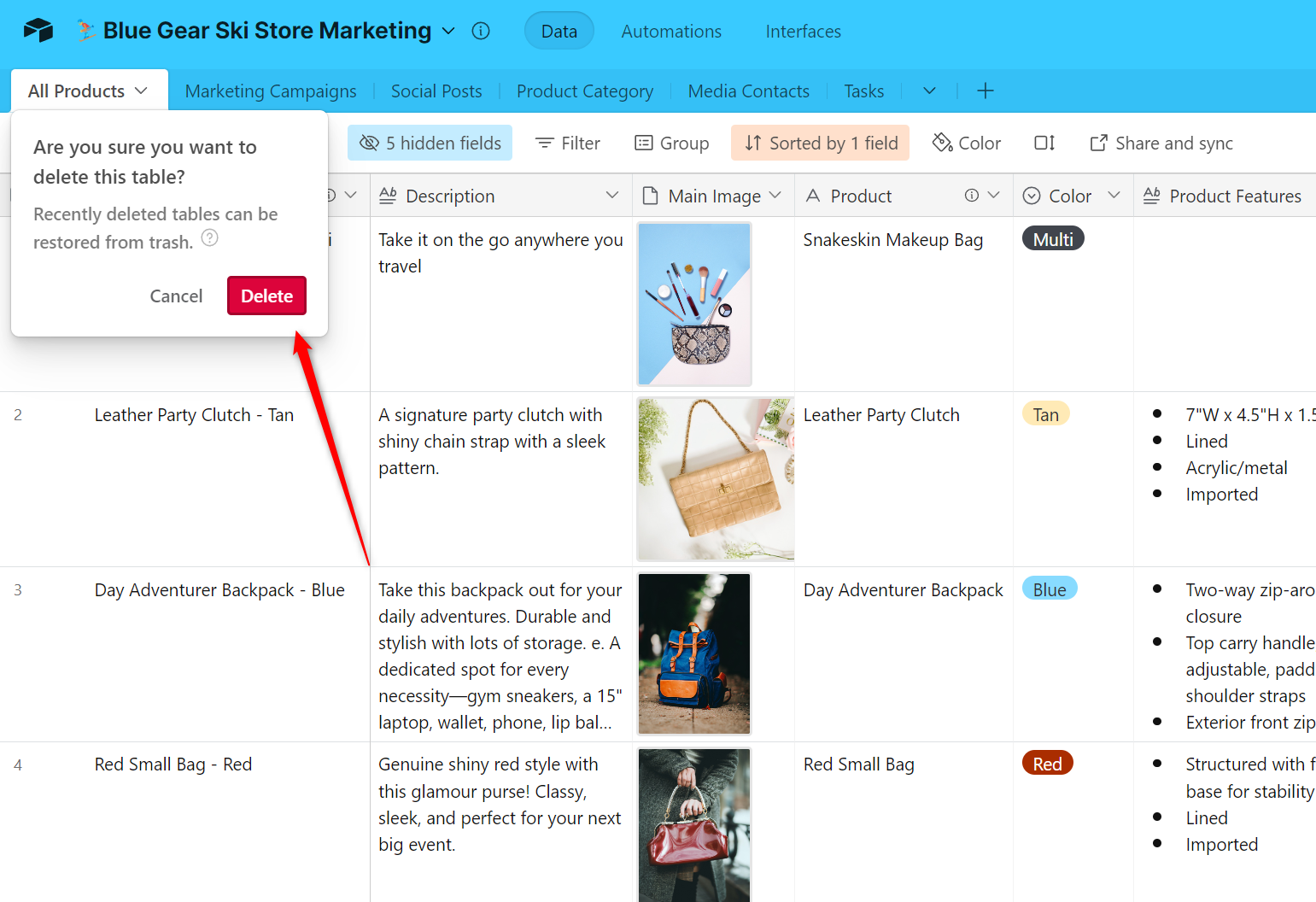 Bad news, you just deleted an entire Table in your Airtable base along with all your records and data in the Table.
But keep your head up, you can still recover this data and we'll show you how.

💡Check out the 7 Step Guide to Restore Deleted Airtable Data

Get a FREE Airtable backup

What are Airtable snapshots?
Airtable snapshots are automatically generated copies of your entire Airtable base and data, created on a varied schedule and saved to Airtable's servers. 
Snapshots allows you to restore an Airtable base to a previous state and can be used to find or recover previous data. When a snapshot is restored, an entirely new Airtable base will be created in your Workspace.
How often are Airtable snapshots created?
Airtable periodically and automatically takes snapshots of your entire Airtable base. This includes the entire base, tables, views, fields, data, automations, and interfaces. 
While snapshots are auto-created by Airtable at various times, they are not created on a specific or known schedule. Airtable doesn't provide us much insight into the exact criteria of when a snapshot will be generated.
Snapshots are based on how active Users are in a base. In a very active Airtable base where records are changing often, a snapshot might be taken once a day. In a less-active base, a snapshot might be created every other day, every couple of weeks, or once a month. 
💡 Learn more about best practices in our Essential Guide to Airtable Backups
How long are Airtable snapshots saved?
Snapshots are saved for a certain period of time, depending on your Airtable plan:
For the Free plan, you will be able to see the past 2 weeks' worth of snapshot history.
For the Team plan, 1 year's worth of snapshot history will be saved starting at your time of upgrade.
For the Business plan, 2 year's worth of snapshot history will be saved starting at your time of upgrade.
For Enterprise plans, 3 year's worth of snapshot history will be saved starting at your time of upgrade.
Learn more about Snapshots in the official documentation – https://support.airtable.com/docs/taking-and-restoring-base-snapshots
💡 See how Charm Industrial backs up mission-critical Airtable data with On2Air Backups – Read their story
What happens when you restore an Airtable snapshot?
You can restore a base based on a Snapshot. When you restore a Snapshot, Airtable creates an entirely new base. They do not overwrite the current version of your base.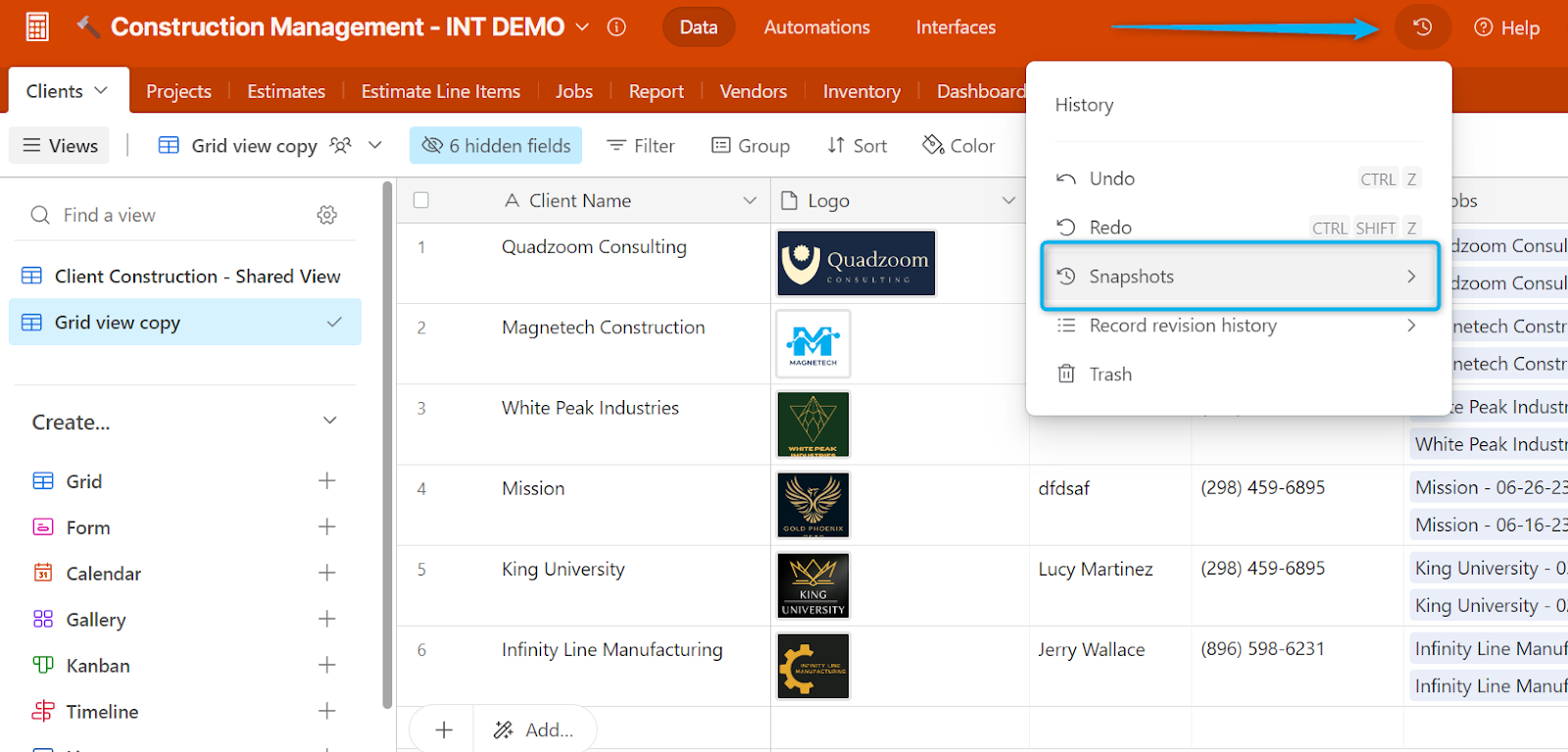 You'll then be able to look at your data in the new base and either copy the missing data to your current base or start using the new one.
How to restore an Airtable snapshot
Click the base history icon, then snapshots, then choose the snapshot you'd like to restore: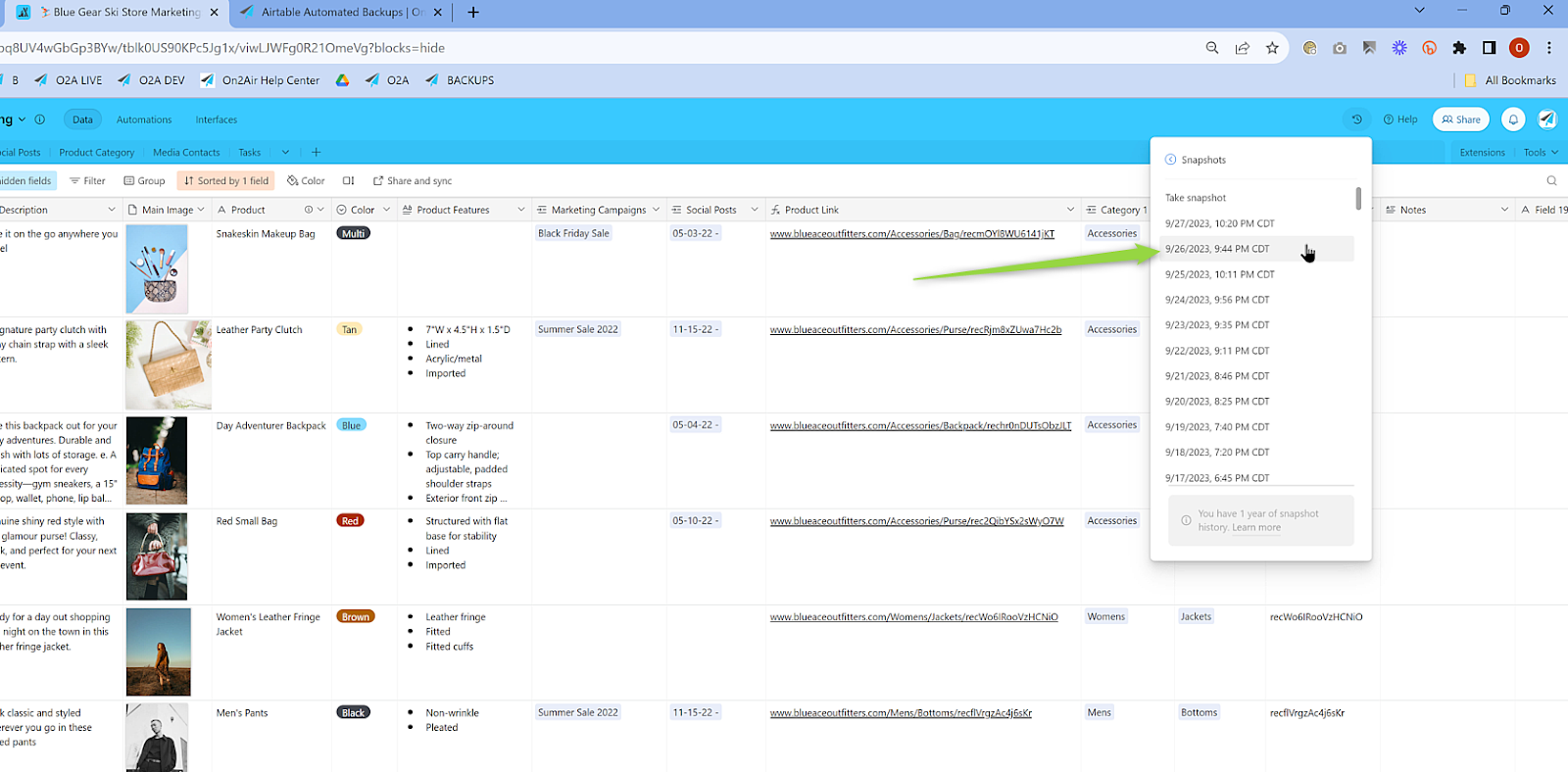 2. You'll be prompted to name your new Airtable base and select a workspace to store the new base.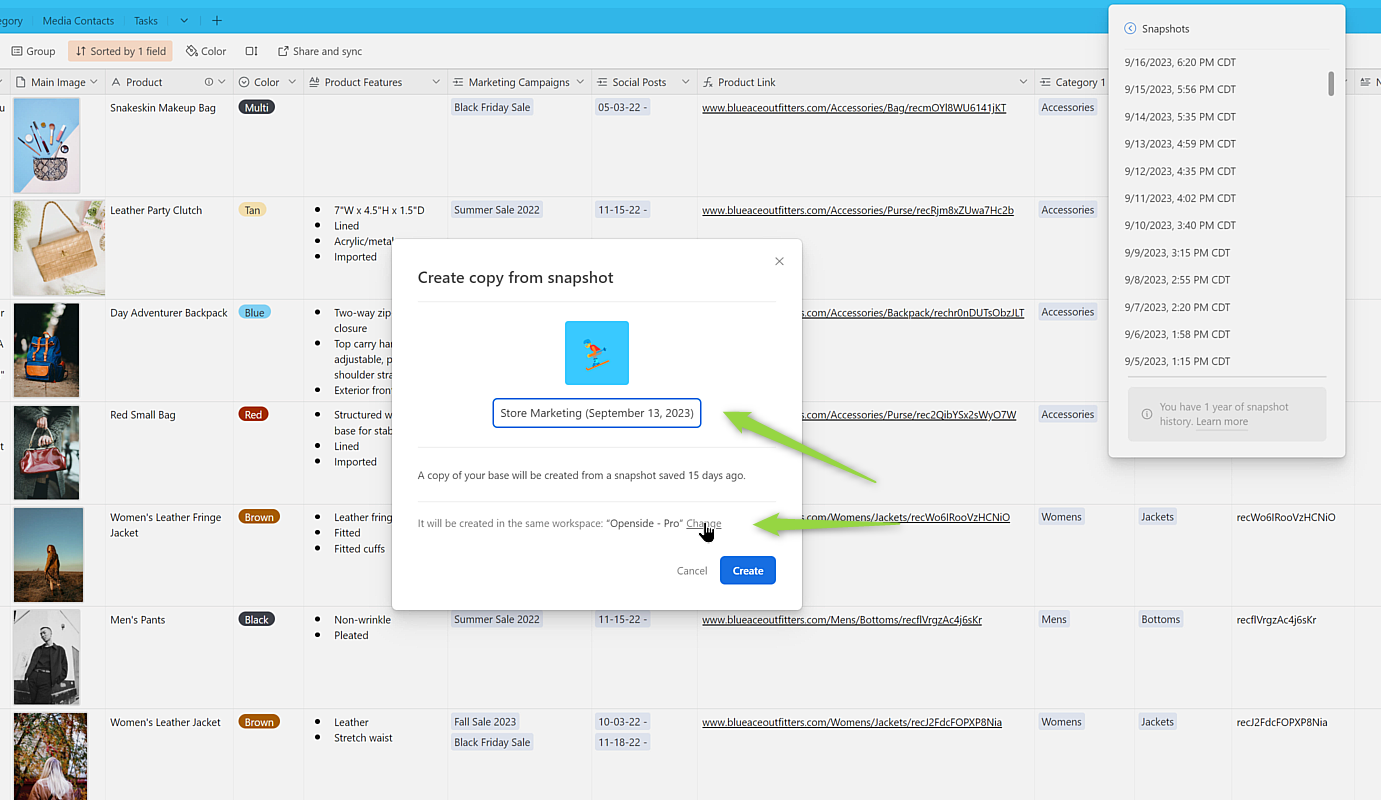 Snapshots are a previous version of the base. Since other changes may have occurred since the snapshot was taken, Airtable creates a new base in the workspace of your choice. They do not overwrite the current version of the base.
3. Click Create to create a copy of your base from the snapshot date you chose
4. You'll then be able to open your new base and see it in your workspace
Final
Airtable snapshots are a nice safety net when it comes to data mishaps. They automatically back up your entire Airtable base, and while the exact schedule remains a bit mysterious, you can access previous data. For added data security and backup best practices, try On2Air Backups for Airtable. The powerful backups app complements Airtable snapshots, making sure your data remains secure and yours at all times.
Why should you have data backups?
Many of our customers create an automated Airtable backup with On2Air Backups for one or more of the following reasons:
Backup Best Practices (3-2-1 backup structure)
Compliance
Protect their own data
Protect their client's data
Data redundancy
Company growth with more users editing Airtable data
Full Revision history
Failsafe if access to Airtable is lost
Ability to always have your data, no matter the software used
If ever needed to move to a software solution other than Airtable
Data backups aren't meant to be an afterthought, they're deemed an essential element for ensuring cybersecurity in businesses and organization.
Hope for the Best, Prepare for the Worst – Use On2Air Backups
While you hope to never have data deleted or be in a situation where your data is missing, it happens
With On2Air Backups, your data from Airtable is automatically exported on a schedule you choose to Google Drive, Dropbox, or Box. This automation can be Hourly, Daily, Weekly, or Monthly.