Apps to Run Your Business Operations with Airtable
Airtable Extensions and App Integrations to make Airtable even better.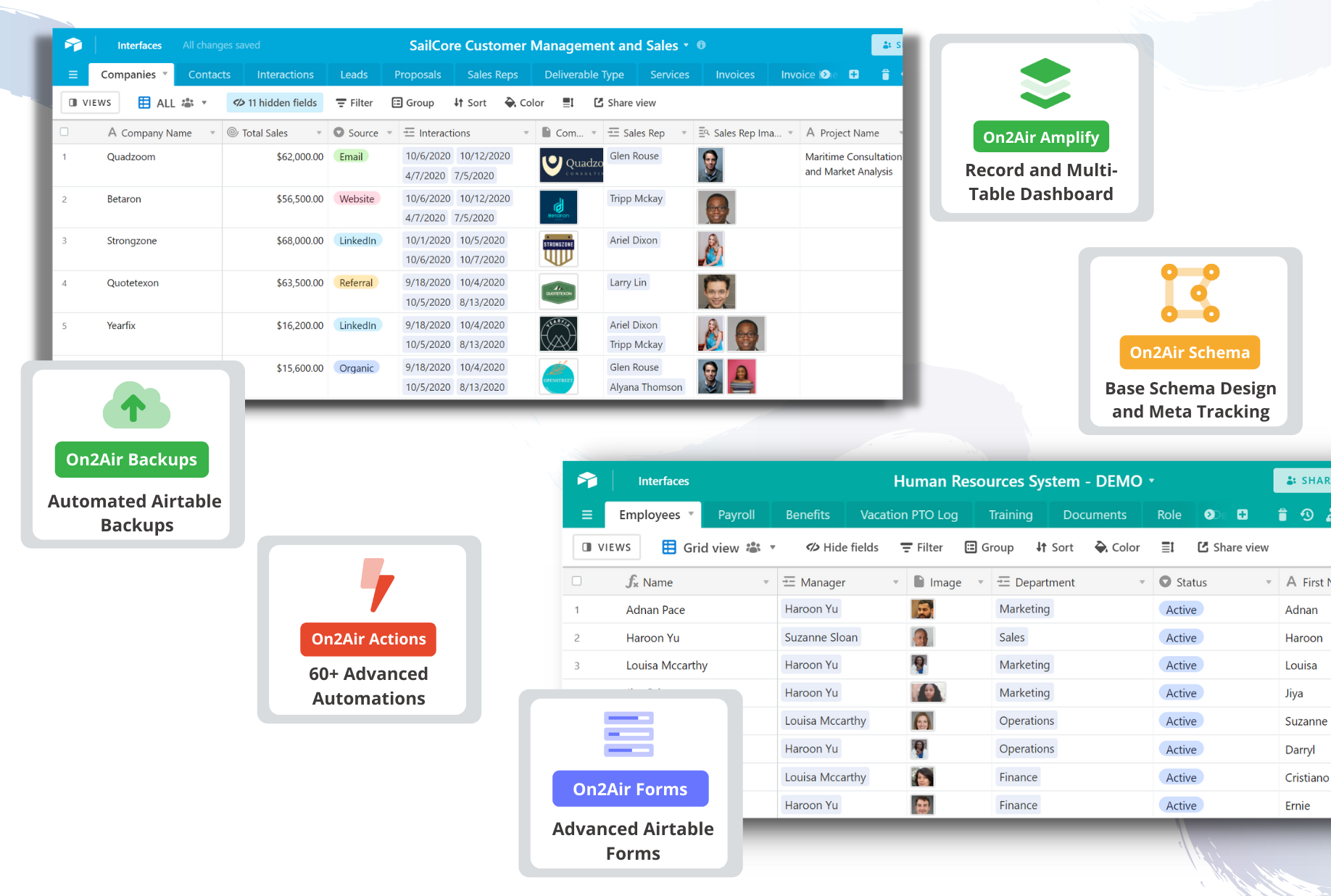 Your Airtable App Toolkit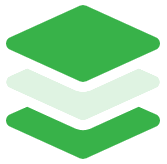 On2Air: Amplify
An Airtable dashboard to view your data in a better way. Custom views, a full-screen viewer, record customizer, editor, and dashboard, On2Air: Amplify will change the way you use Airtable!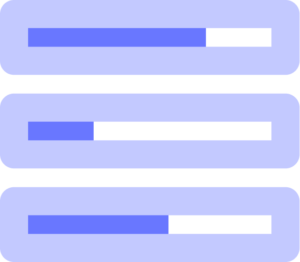 On2Air: Forms
An advanced Airtable form builder that works directly with your Airtable bases. Add or update Airtable records, display data from your base on a form, show only specific records or views depending on what the user chooses (Car Make > Model), create subforms, and more.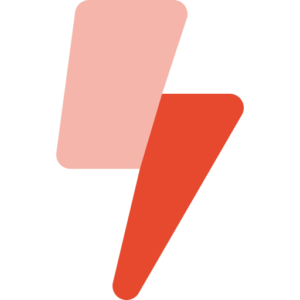 On2Air: Actions
60+ powerful Airtable automations. Automated documents, Google Sheets sync, bulk record updates, compare field data, and more. Then, connect Airtable to over 4,000 apps.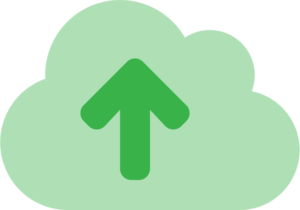 On2Air: Backups
An automated backup solution for your Airtable bases. Create scheduled backups of data stored in Airtable and export your information to Dropbox, Box, or G Drive.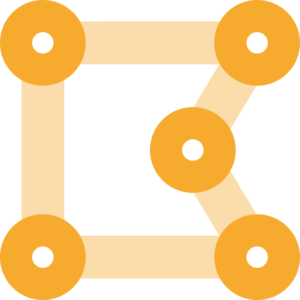 On2Air: Schemas
A generated diagram to visualize your Airtable base structure and track changes to meta information for all tables, views, fields, and relationships. 
Franklin Templeton Investments
Congregation Shamrei Emunah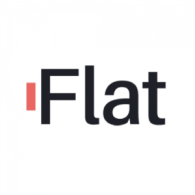 "Openside enabled our business to function property for a long time without having to to think about building our own software, and that is pretty invaluable. Their On2Air: Actions <-> Airtable integration is amazing, we use it very often and are very happy with the results"
(see their story here)
John Parker, CTO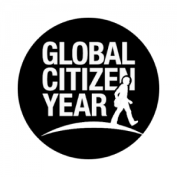 "Openside has allowed us to bridge the gap between Airtable and the many other tools we use. It has saved us time and effort in creating multiple steps in Zapier, and has enabled us to consolidate many actions into one step. It has also allowed us to do more with Airtable to power our initiatives."
(see their story here)
Aparna Kothary, Director of Technology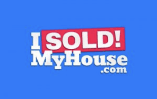 "Openside has provided a reliable solution to our business that has saved us countless hours by helping us to automate different steps associated with helping and tracking our customers as they move through our process to sell their home with our service"
(see their story here)
Kris Lippi, Owner & Broker

"With the help of Openside's products and services, we saw over 70% improvement in efficiency of our business process and workflows" (see their story here)
Gabe Amey, CEO
On2Air Airtable Extensions and Apps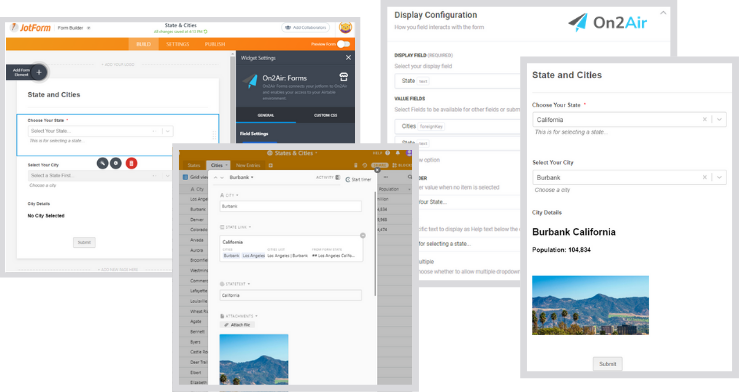 Take Your Airtable Forms to the Next Level
You don't have to settle for the plain, vanilla forms in Airtable anymore. Personalize the form experience for your end-user and create more advanced forms with pre-filled options, custom search, and dynamically displayed values using On2Air: Forms. Send their response to Airtable or any other software tool you use.
Learn about On2Air Forms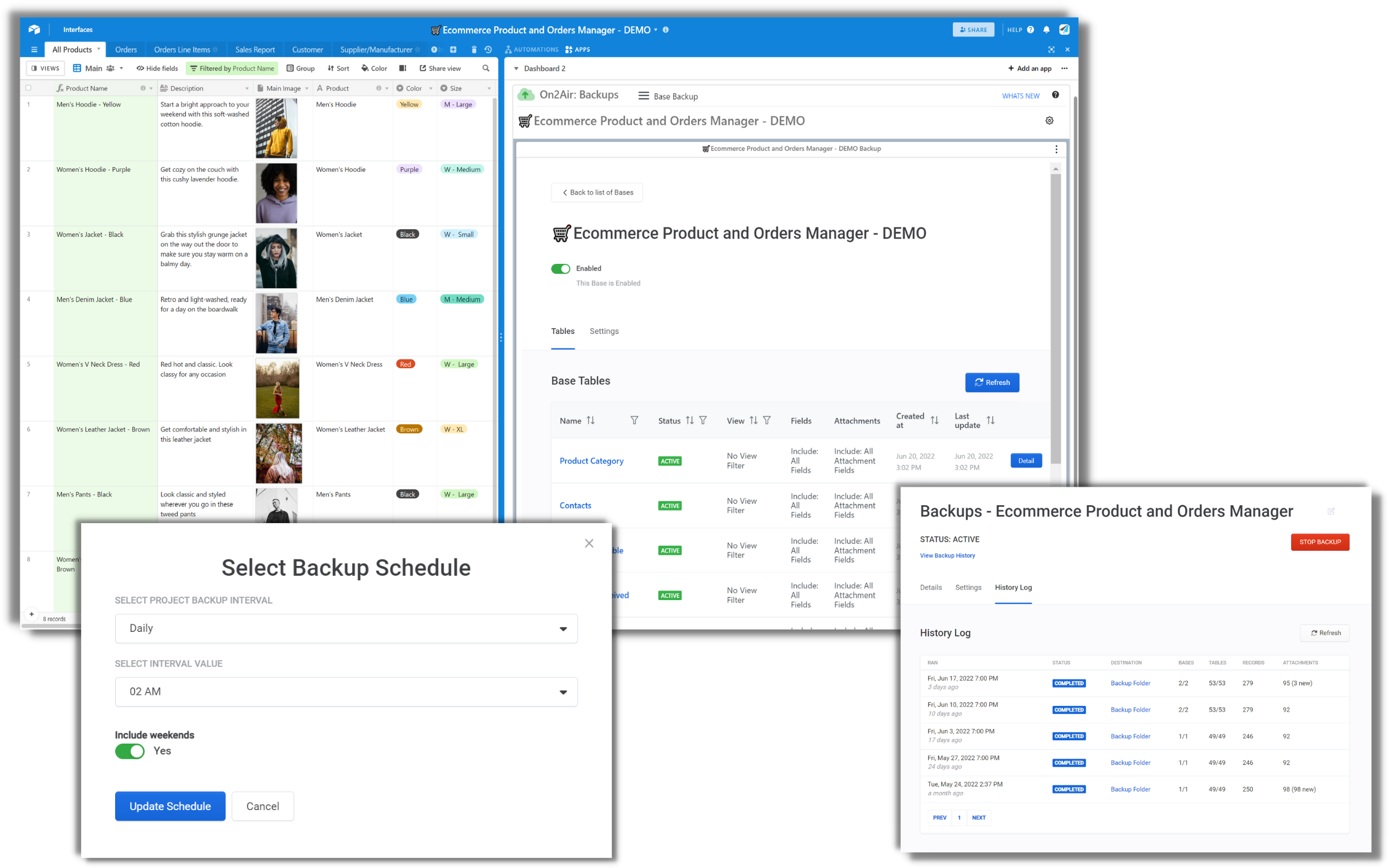 Ensure Peace of Mind with Regular Airtable Base Backups
Maintain backups of your Airtable bases with On2Air Backups to ensure your vital company data is never lost. Automated base backups of your data and attachments on a set schedule.
Learn about On2Air Backups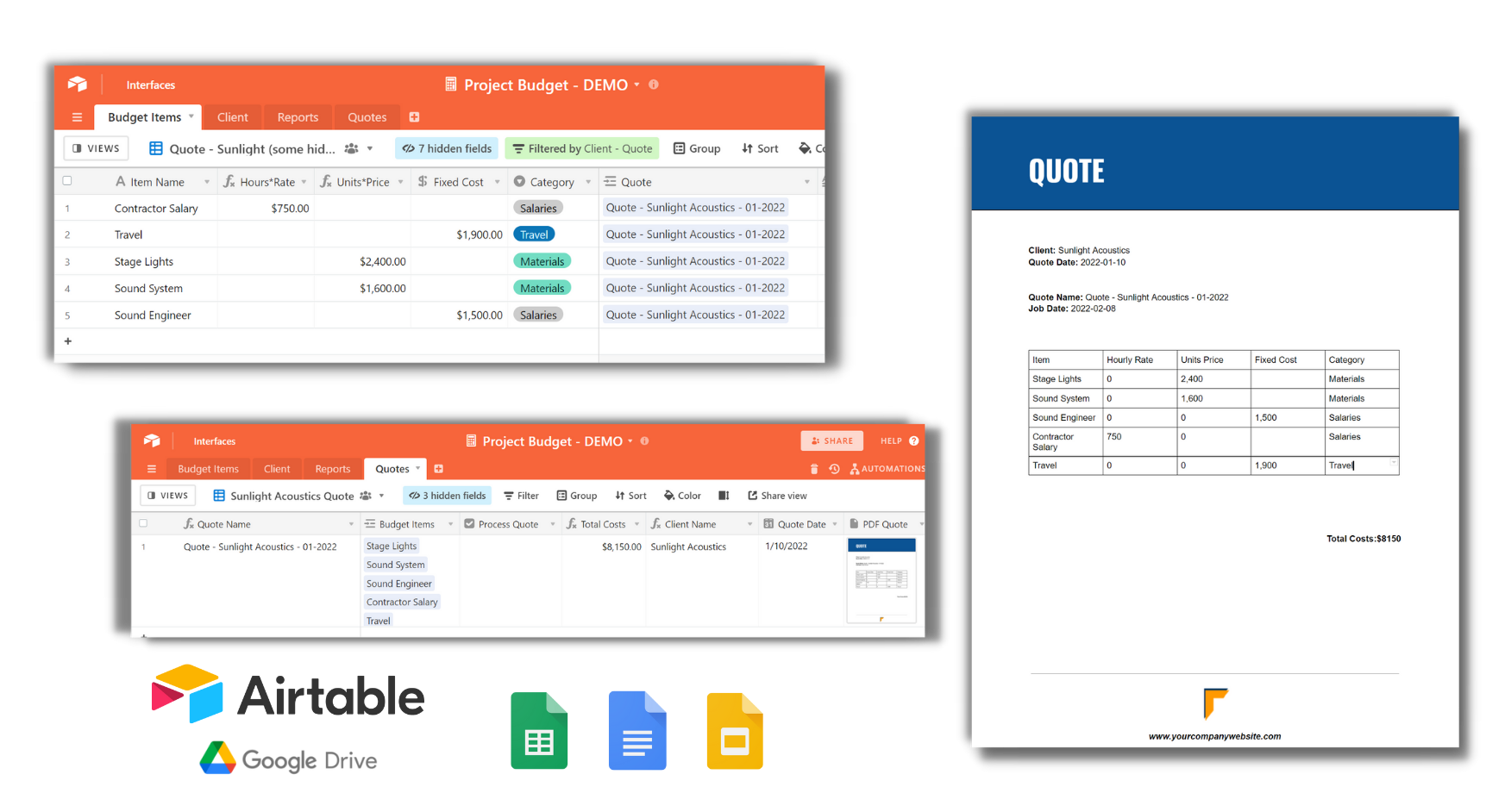 Create Automated Documents with Your Airtable Data
Create documents automatically using any data you have stored in Airtable. Generate invoices, contracts, business letters, employee forms, marketing assets, form entries, and more. Upload PDFs and files directly back into an Attachment field in your base.
Learn about On2Air Documents
(Documents are part of the On2Air Actions app)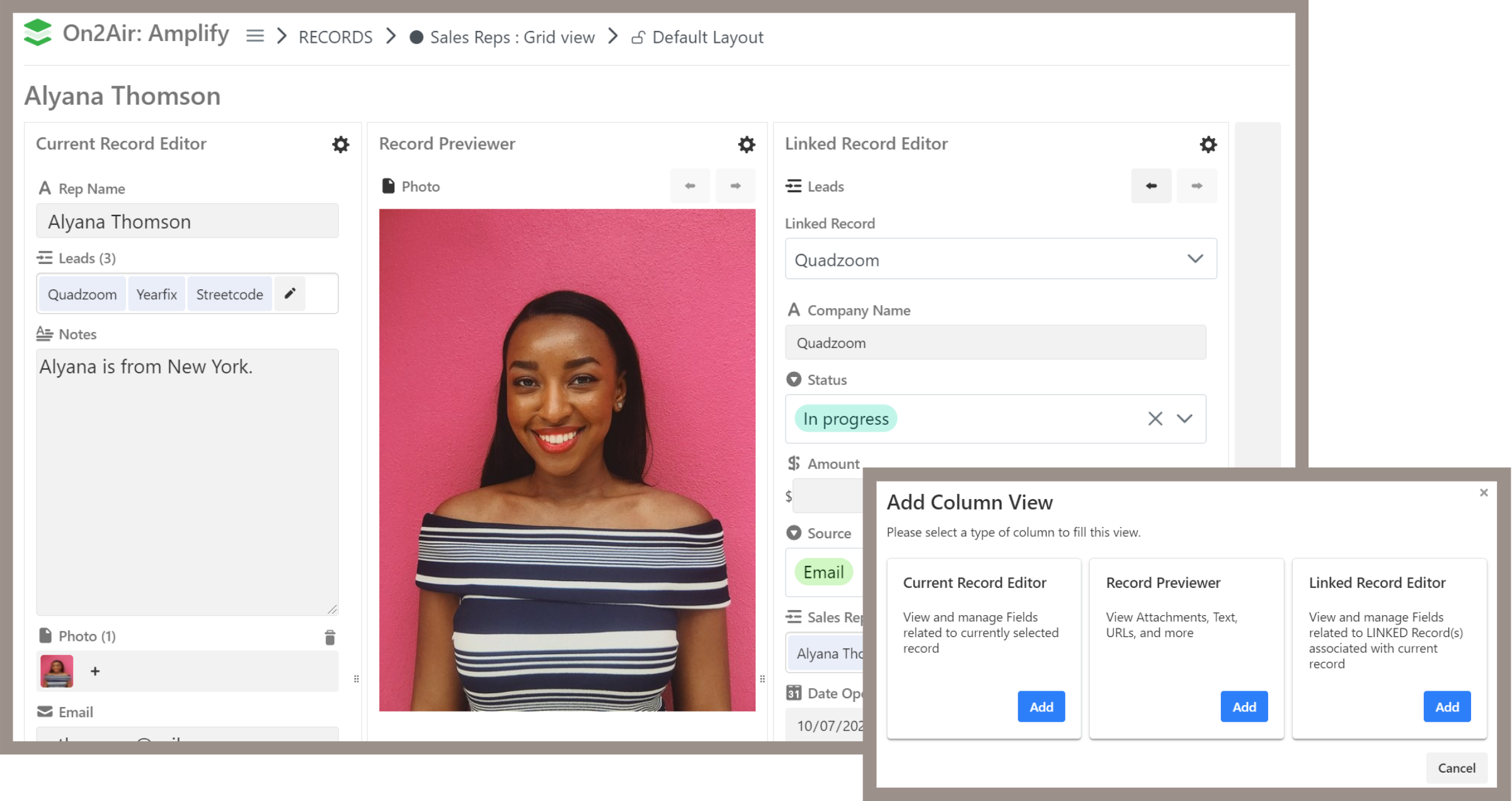 View Your Airtable Data in a Custom Dashboard
With multi-talbe viewing, a full-screen viewer, record customizer, editor, and dashboard, On2Air Amplify will change the way you use Airtable! Customize your record views by displaying or hiding fields, so you see only what matters most. View documents or attachments in full-screen, perfect for presenting or reviewing important documents. Edit current records or create new records directly from the dashboard.
Learn about On2Air Amplify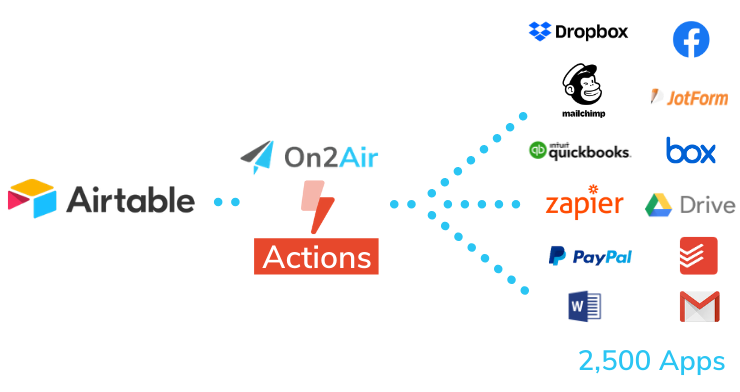 Integrate Airtable with All Your Business Software Tools
60+ Airtable advanced automations. Create automated business processes no-code automations, such as automated documents, financial calculations, default values, copy field values, and many more! Connect your Airtable data to other Airtable bases and with over 4,000 software tools used in your business.
Learn about On2Air Actions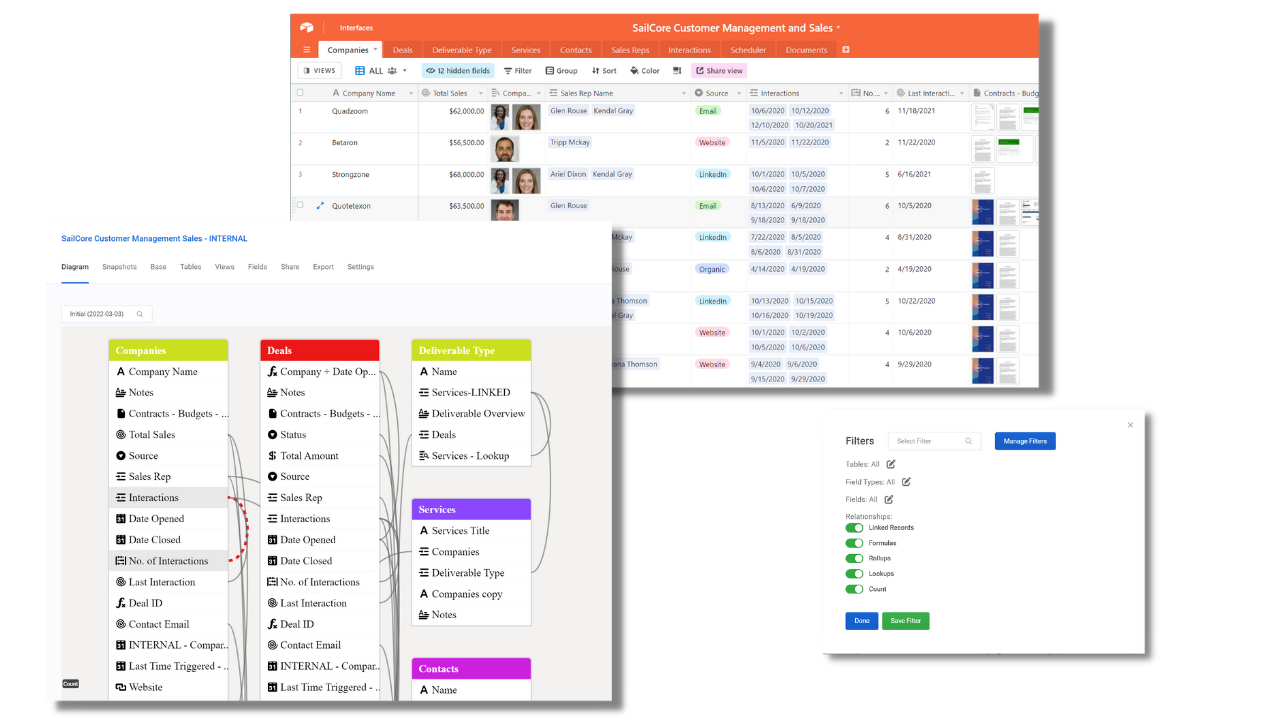 View Your Base Design Relationships and Track Layout Changes to Fields, Tables, and Views
On2Air Schemas generates a diagram to visualize your Airtable base structure. Keeps a history log of changes to meta information for all tables, views, fields, and relationships. View formulas and all formula references and get an understanding of your base design and relationships.
Learn about On2Air Schemas
Premium Customer Service and Support
We're Airtable experts and we're here to help. We've been building Airtable apps and Airtable business systems for years.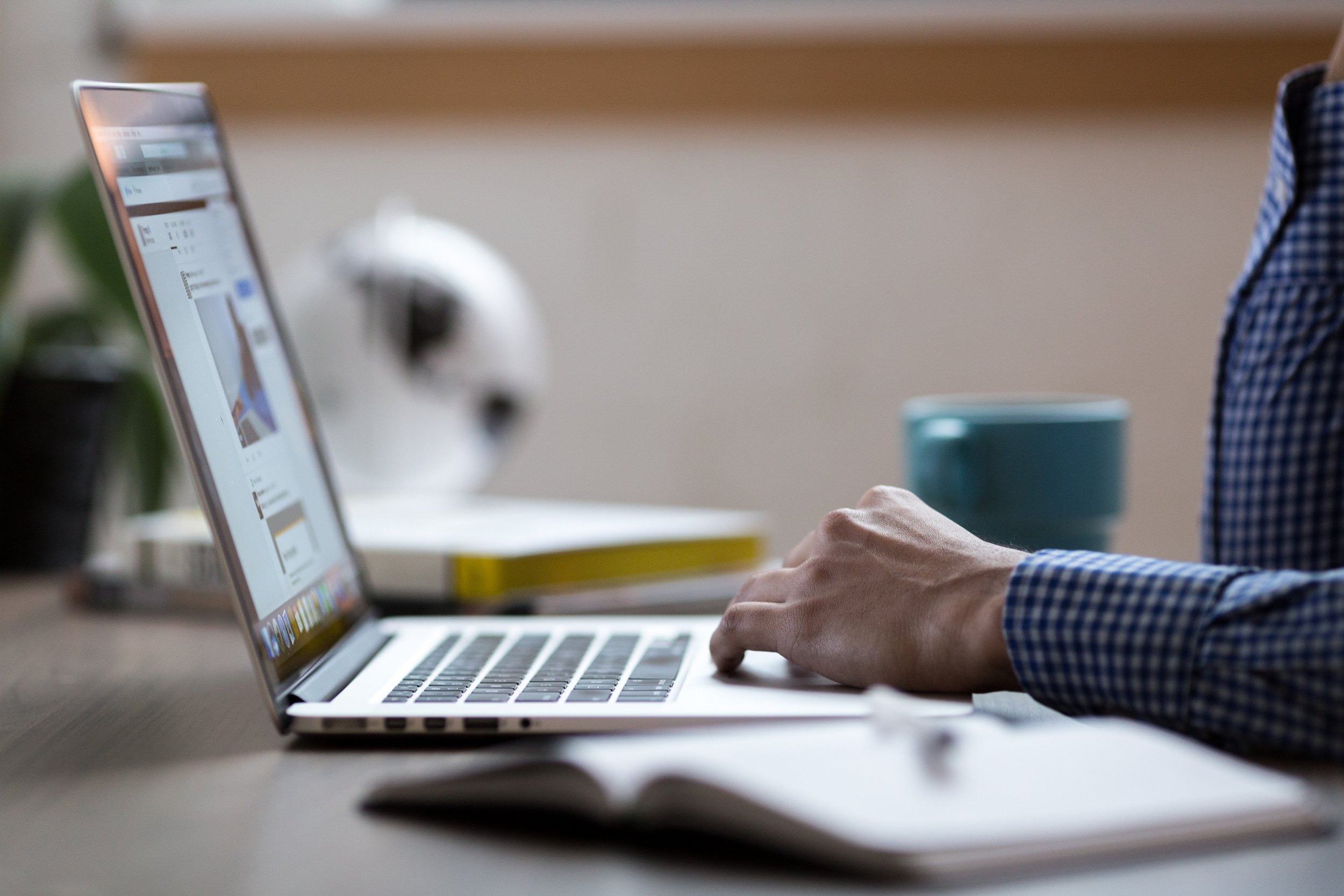 "Openside enabled our business to function property for a long time without having to to think about building our own software, and that is pretty invaluable. Their On2Air: Actions <-> Airtable integration is amazing, we use it very often and are very happy with the results" (see their story here)
John Parker
CTO
Flat
"Openside has allowed us to bridge the gap between Airtable and the many other tools we use. It has saved us time and effort in creating multiple steps in Zapier, and has enabled us to consolidate many actions into one step. It has also allowed us to do more with Airtable to power our initiatives." (see their story here)
Aparna Kothary
Director of Technology
Global Citizen Year
"Openside has provided a reliable solution to our business that has saved us countless hours by helping us to automate different steps associated with helping and tracking our customers as they move through our process to sell their home with our service" (see their story here)
Kris Lippi
Owner & Broker
I Sold My House
"With the help of Openside's products and services, we saw over 70% improvement in efficiency of our business process and workflows" (see their story here)
Gabe Amey
CEO
Hawaii VA Loans
"Within just a few months of working with Openside, they have been able to customize our Airtable database and integrate advanced tools designed specifically for our company's needs. We are continually impressed by their quick response time, ability to understand each of our project's overall requirements, and consistency in delivering operational products within our deadlines. VDC is very fortunate to have found Openside."
Patrick Corry
Senior Account Executive
Venture Development Center
"Openside is almost literally a life-saving product. We run a lot of our systems on AirTable, and we are increasingly managing data across multiple bases. Zapier's integration functionality is great, but it is not always robust or sophisticated enough to depend on for business-critical applications. Openside takes it to the next level and gives us functionality that we can depend on to keep everything running smoothly."
Will Snell
Director of Operations
Tax Justice Network
"We were stuck, unable to connect our Airtable base with another using any sort of 2-way sync. Openside's On2Air came to our rescue. With a low monthly subscription, we were able to continue to use Airtable without having to switch to a whole new platform for our company. Dan walked me through how to set it up and continued to provide support when I got stuck. We would definitely recommend On2Air to others looking to sync data in a way that wasn't otherwise possible."
Leah Weinberg
Director of Operations
Reaction Concepts
"I work for a home building company and was working on a work flow to help one of our processes become more efficient… I was using Airtable, Zapier, and Google Sheets and couldn't get my work flow to work, but the Openside connector has made the work flow possible. The customer service experience with Openside has been great and I feel like the Openside team has gone out of their way to help me achieve my work flow goals!!! Thanks Openside."
Amy Harris-Ambrosio
Development
Minerva Properties
"Dan from Openside was wonderfully helpful as my nonprofit researched ways to optimize the management tool we built from scratch in Airtable. The tool we use is a bit convoluted because of how many different things it does, but Dan was able to quickly understand what we had done and provide great feedback to help make it better. I'm very grateful to Dan and Openside for their consultation and support."
Anton Preisinger
Founding Director
Northwest Hospitality