Backup Multiple Airtable Bases
Airtable backups are a vital step in data security if you're running your business out of Airtable. Do you have an Airtable workspace with multiple important company bases?
In this tutorial, we'll show you how to backup multiple Airtable bases at once on an automated schedule with On2Air Backups.
You can backup up multiple Airtable bases at once with a Backups Project in On2Air Backups – without having to add the On2Air Backups extension to every single base.
Every On2Air Backups plan (except Starter) can back up multiple bases, so there's no reason not to use this!
3 Minute Tutorial Video
Check out this 3 minute video on how to create a Backup Project 🔻
Step-By-Step Guide
Get a free On2Air Account
First, sign up for a free On2Air account
Open the On2Air web app at app.on2air.com and sign in to your account
Open the Settings page app
Create a connection to your Airtable workspace by going to Accounts and Integrations and clicking the blue plus icon
Choose Airtable. You'll need to enter your Airtable API Key – Here's how to get that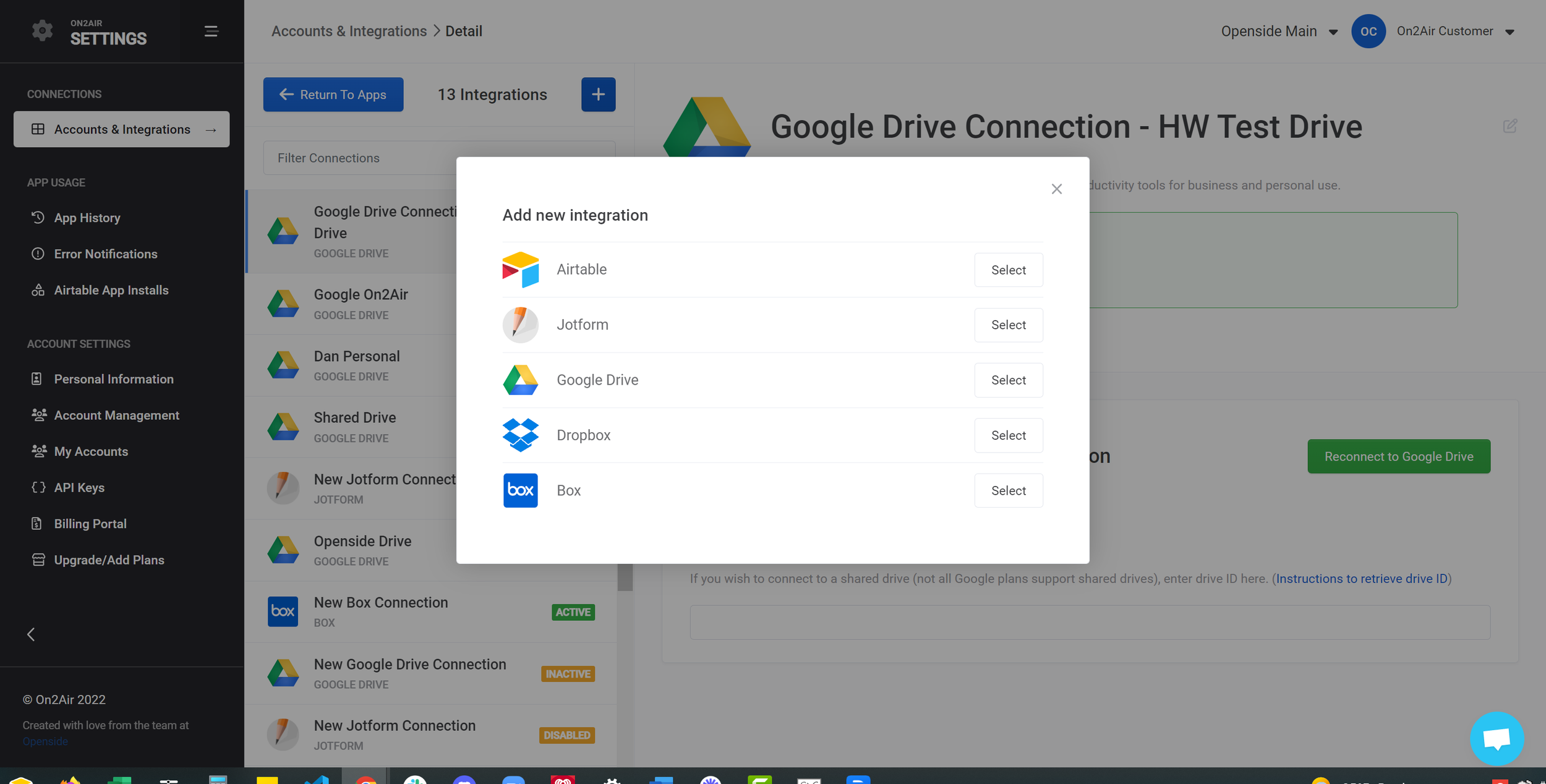 Related: Learn How LKF Marketing Creates a Backup of Their Airtable Bases with On2Air Backups and Ensures Their Clients' Data is Safe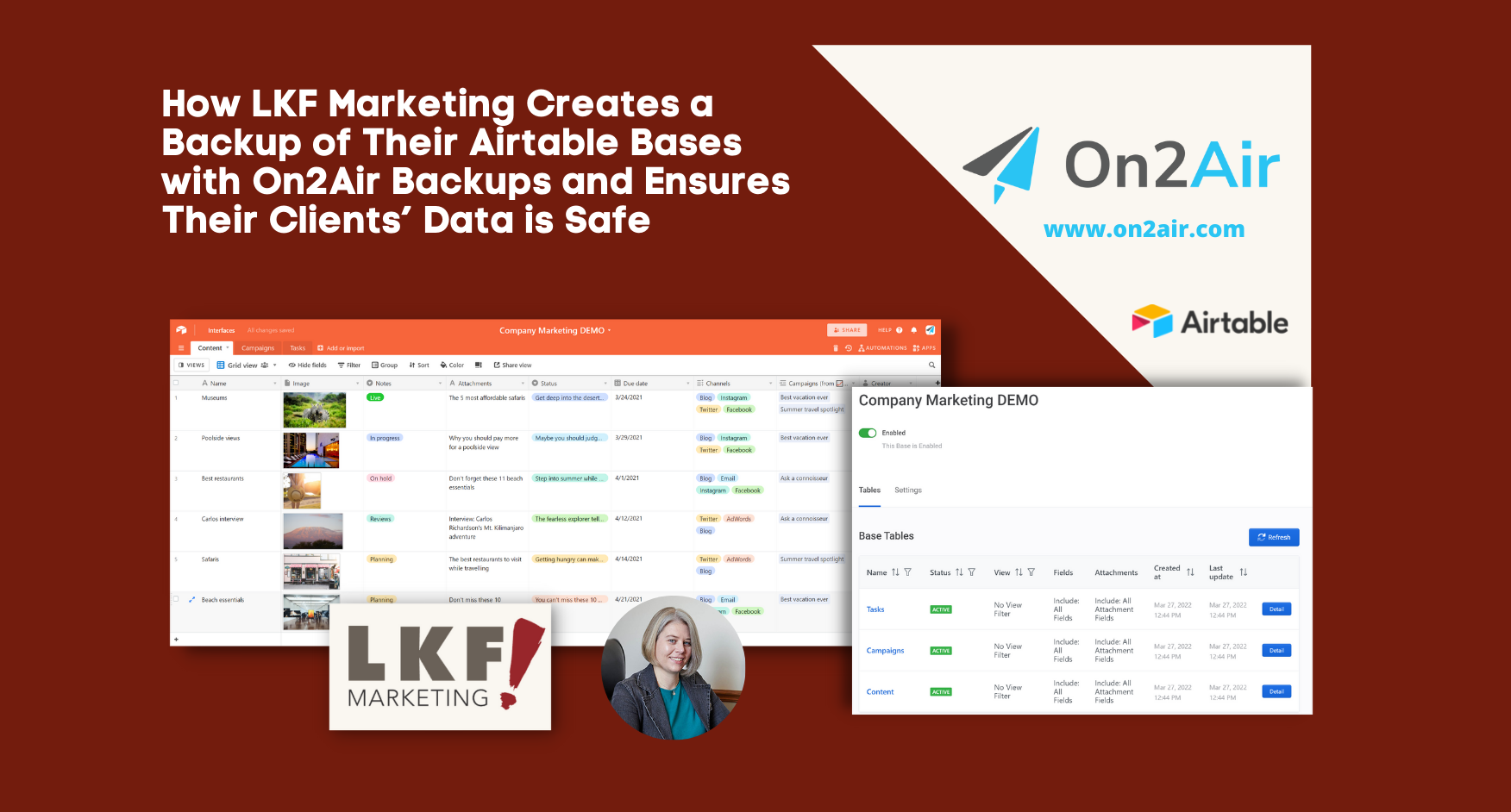 Click Configure Settings
Click Select Storage Connection and choose your Cloud Storage Connection
Click Save Backup Details
Click Schedule to set up your Backup Schedule and choose your Interval
Depending on your plan, you will have monthly, weekly, daily, or hourly options.
Choose the Bases tab and click Add Base to Backup
Choose your Airtable connection and then choose a base you want to add to the Project
Click Add New Backup Base
To add more Airtable bases to your Backup Project, click Add Base to Backup
You'll choose your Airtable connection and the next Airtable base you want to add to the Project
Click Start Backup to start backing up all your Airtable bases in the Backup Project
You can click the History Log tab to see your backup status
On2Air Backups – Automated Airtable Backups
Check out more On2Air Extensions and Apps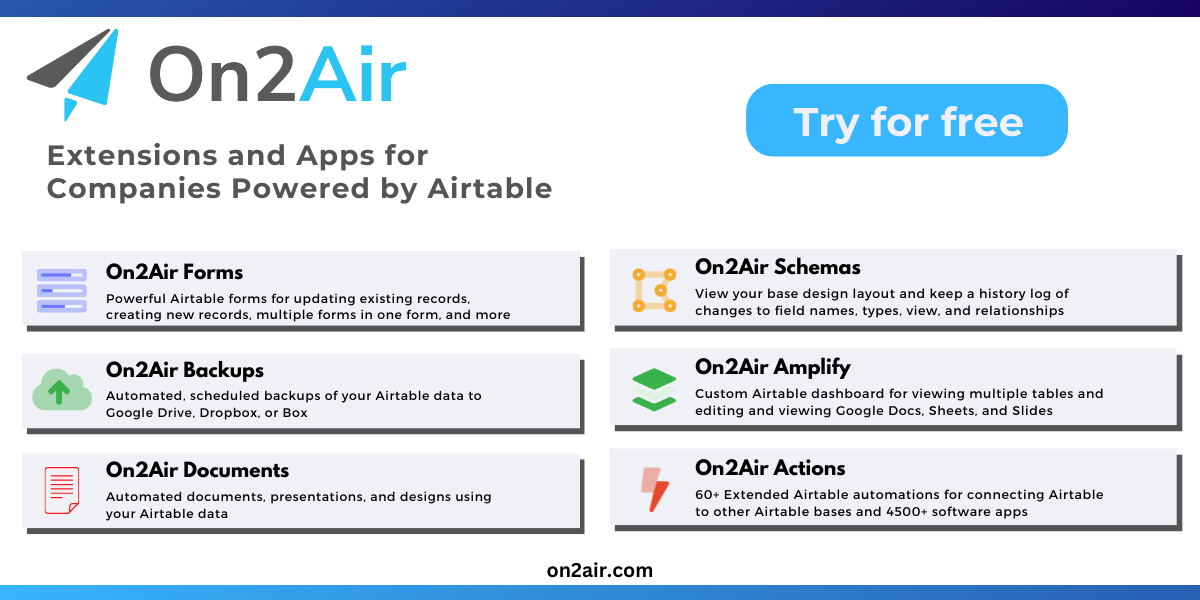 ---